Tags
Related Posts
Share This
Yarn bombing: the kinder, gentler graffiti
The urban landscape doesn't belong solely to spray paint cans in the hands of Banksy wannabes anymore. There's a new graffiti in town, and it hides in the branches of trees, is as bold as the statues that it keeps warm at night and is ready to make you smile with its "cute" and fuzziness.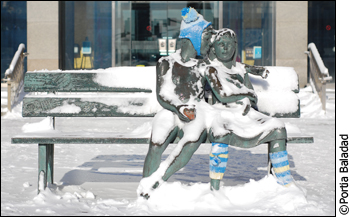 The statue outside Ottawa's Library and Archives Canada building, after falling prey to a yarn bomber's craft.
Known as yarn bombing, it's the global movement that looks to soften the harsh city landscapes with wool and yarn installations. From bright, tea-cozy-like knitted pieces on lamp posts and bike racks to statues with their own sweaters and scarves, yarn bombing contrasts the gray concrete of the urban jungle with wool's vivid colours and designs. Unlike paint on brick, yarn bombing can be removed from any fixture with little to no trouble, using just a pair of scissors.
It all started in the winter of 2005 when 37-year-old Magda Sayeg wanted to bring a little warmth to her Houston, Texas, neighbourhood by knitting a little cozy for the doorknob of her boutique. Sayeg then began masking other things like lamp posts and stop signs, and even started a yarn bombing group called "Knitta Please." Now considered the mother of yarn bombing, Sayeg came to attention when photos of her handiwork popped up on the Internet, inspiring other knitters to go drape in public. Since then, knitted and crocheted installations have cropped up all over the world in many different shapes and sizes. Sayeg has even been commissioned to yarn bomb Mini-Coopers, motorcycles and office air ducts. "I didn't intend for it to become this global movement," said Sayeg in an e-mail. "So, it's become an an exciting and unexpected journey for the last six years."
Yarn gone viral
'Police have better things to do than arrest people for putting dollies on lamp posts.' — yarn bomber Joann Matvichuk
This past summer, Canadian Joann Matvichuk, 45, declared June 11th as "International Yarn Bombing Day" on Facebook. The Lethbridge, Alta., mother of two, is a regular yarn  bomber, covering lamp posts, bus benches, crosswalk buttons and fences. She says she came up with the idea at 3 a.m. one night, invited some of her friends to document their own work in group but didn't expect it to catch on.
"I just thought it would be a neat idea if everybody that did this did it at the same time and how many people would notice? Would they notice?" Matvichuk said over the phone. "I didn't expect it to be as big as it turned out."
Her Facebook group amassed just over 4,500 "likes" and dozens of photo contributions from yarn bombing fans all around the world. The group documents a yarn-covered bench in Spain, a giant skateboard monument in California, an eye patch for one statue in Italy, pom-poms hanging on trees in Australia… The list goes on. This kind of digital mobilization has helped the yarn bombing community grow.
"Photographs of what we do totally inspire people," said Matvichuk. "You look at at it and go, 'Why didn't I think of that?' Or, 'I could do that and put it on this, instead.'"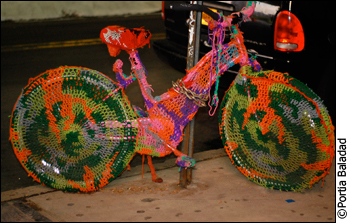 A yarn bombed bike left under the Brooklyn Bridge in Brooklyn last summer.
While many may think of knitting and crocheting as grandmotherly, yarn bombing sets itself apart with its diverse community of devotees. Both women and men, young and old, venture out to cover whatever tickles their fancy. Leanne Prain is the co-author of Yarn Bombing: The Art of Crochet and Knit Graffiti, and considers herself a yarn bombing historian.
Like all art forms, knit bombing has its critics. Prain says she receives e-mails from time to time that knock yarn bombing as a "waste of wool."
Twenty-one-year-old McGill University student and avid knitter Bogdana Dragomir says it would take a very clever project for her to take up yarn bombing.
"Wool is expensive and it takes immeasurable amounts of time to knit something substantial," said Dragomir. "Why would I waste that in an act that would be construed by authorities as vandalism?"
In fact, most city by-laws define graffiti as "one or more letters, symbols, etchings, figures, inscriptions, stains howsoever made or otherwise affixed to a property or other markings that disfigure or deface a property" with exceptions of pre-approved murals. Yet Matvichuk says she's heard of police officers helping yarn bombers install their artwork. "In most cases, police have better things to do than arrest people who are putting up dollies on lamp posts," said Matvichuk.
Generally, yarn bombing isn't an offensive art form. For Prain and Matvichuk, the goal is the same: to put a smile on a stranger's face. Then there are the yarn bombs that gently nudge people towards the unexpected or ignored. It may be the forgotten bike on a New York City street or the banister along the Rideau Canal in Ottawa. According to the New York Times, Philadelphia-based artist Jessie Hemmons made a neon-pink sweater emblazoned with the words "Go see art" and placed it on the Rocky Balboa statue in front of the Philadelphia Museum of Art. She said wanted to encourage visitors to visit the museum rather than quickly snapping a picture of the famous statue and leaving.
A labour of love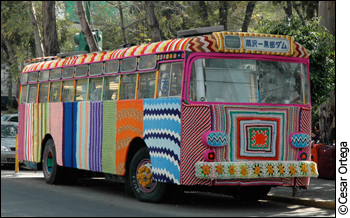 This gorgeously decorated bus in Mexico City was the handiwork of Magda Sayeg, the mother of yarn bombing.
Contrary to popular belief, yarn bombing isn't spontaneous. To execute a good yarn bomb takes time and carefully planning. Bombers have to come up with the idea and size up their target to ensure a snug fit before knitting. The knitting itself can be tedious, lasting anywhere from 24 hours to weeks, depending on the target's size. Then, in the dim of night or even in broad daylight, the bombers sew and tie their works on the target, often leaving no trace of their identities. Similarly to paint graffiti artists, some yarn bombers prefer to work under a pseudonym.
The yarn bombs can last anywhere from ten minutes to years. Matvichuk says she's noticed some of her pieces disappear soon after installation, assuming people have taken her cozy artworks home. If they haven't been taken, yarn bombs last as long as they can stand the weather or until the creator thinks they're too worse for wear to stay up any longer. According to Prain, one of her tree-branch yarn bombs has lasted for almost three and a half years. She was hesitant to give out its exact location for fear of it being taken down.
Prain says that yarn bombing is a great tool for community building and hopes that it gives people a greater appreciation of textile art. Prain has always seen art as a positive force, especially street art. Whether painted or knitted graffiti, art should always be available to public. While she is busy with book tours and maintaining her website, yarnbombing.com, she helps to plan big projects, for which a number of people are eager to put their needles together and participate.
"It's something that has the ability to communicate and inspire people from all walks of life," said Prain. "Knit graffiti is really this tactile, soft medium, and there's something sentimental about yarn and textiles. It's wonderful to place something in a place that will surprise somebody and hopefully delight them."