Tags
Related Posts
Share This
Not Karsh's Ottawa anymore: professional photographers face challenges in the capital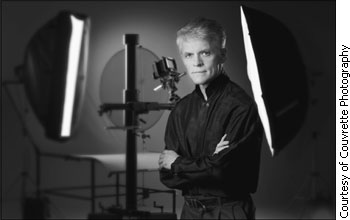 Paul Couvrette in his studio in downtown Ottawa.
For 35 years, Paul Couvrette has worked as an Ottawa-based photographer.
He has photographed every prime minister from Trudeau to Harper; his work has appeared on the covers of publications such as Time, Maclean's and Ottawa Life. Yet today his traditional work-fare of weddings and family portraits provides just a quarter of his income, and Couvrette thanks government and corporate contracts for keeping him comfortable in an unsteady job market.
Professional photography has changed drastically recently, especially in Ottawa. Digital cameras and cell phones jammed with megapixels are replacing photographers everywhere, and young people trying to break into Ottawa's scene are discovering they need more than just an artistic eye in order to succeed.
Couvrette says the average business life of a photographer in Ottawa has declined to a mere three or four years; having been a member of the Professional Photographers of Canada for over 20 years, Couvrette has seen countless photographers pass through the organization's monthly meetings.  He admits that some amateut photgraphers have talent, but suggests they lack the dependability, experience and service outlook that established studios offer clients.
Like Couvrette, Dylan Blanchard and Stephen Harris understand that the capital isn't the easiest place to establish a photography career. Blanchard, 21, and Harris, 26, are business partners in Studio 28 here.
"Ottawa's not bad for getting a start, but having, say, a fashion career here is very hard. If you can get into the government, national corporations or non-profit organizations, then you're laughing, so to speak," Blanchard explains. "You can't have more than what's actually in Ottawa, that's for sure."
Less work to go around
According to Couvrette, the local marketplace has shrunk noticeably in the last three years. For example, weddings, once considered a guaranteed source of photographers' income, are becoming unreliable.
"Weddings used to be profitable. They were the bread and butter of my business for many years. These days, unfortunately, if they even hire one, people have decided they simply want photographers to shoot the digital files, and let them make their own albums on Facebook, or I don't know what," says Couvrette.
He explains that his studio makes the same amount of money from weddings as it did three years ago, but he has to shoot 30 per cent more events to compensate for clients lost to the digital world. The studio's clients spend anywhere between $500 and $15,000 on their wedding photos. For other income, Couvrette has come to rely on corporate and government clients – for example, in his current project, shooting recycling plants for Waste Management Canada's annual report.
Futhermore, the digital wave that's putting a rainbow of miniature cameras on the shelves is giving consumers the impression that they too can be "real" photographers. Many fail to see the point in hiring a professional at all.
Even weddings, once considered a guaranteed source of photographers' income, are becoming unreliable.
Still, there seems still to be a niche for young and inexpensive photographers to try their luck here. Ottawa Start, an online business hub that provides links to local photographers, lists over 200 active photographers in the city.
Amna Hakim, whose website is one of the many located on the Ottawa Start page, had a full-time job with a financial software company when she started taking pictures as a hobby. A friend throwing a low-budget event asked Hakim if she would be the photographer, since she was attending anyway. It was a success, so Hakim decided to put together a website and start promoting herself as a professional photographer.
"From there it got bigger and I've spent no money on marketing or advertising. I had a really strong network of people," she says. "Word of mouth is very powerful."
Hakim suddenly found herself with two full-time careers and knew which one to keep.
"I did what felt right and decided to pursue my dreams of becoming a photographer. It allows me to express myself as an individual."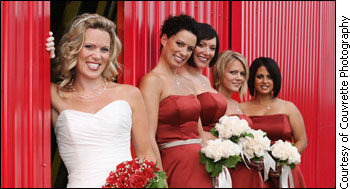 Today, Couvrette has to shoot 30 per cent more weddings than before, to compensate for other business lost.
Hakim focuses the majority of her professional work on what her website refers to as "international wedding and lifestyle portrait" photography. On average each year, she shoots around 50 weddings and just short of 200 portraits. Hakim's wedding packages start at $2500, though she suggests that her clients often spend up to $6000 on their events.
Hakim says her previous work trained her to pay attention to details and numbers.  But not everyone has a business background. Couvrette suggests that many young photographers either don't know their commerce basics, or simply aren't involved enough in operating their business beyond the artistic aspects. He believes that the ease and availability of the digital frontier may be attracting young people who lack the needed business savvy.
"Many people come out of colleges with really big dreams, and unfortunately a few years of photography classes can't teach you how to make it in this industry," he argues. "Colleges don't spend nearly enough time on business training."
Business sense: mandatory
Claire Dodge, 19, is in her last semester of photography at Algonquin College in Ottawa. She says though the program does focus heavily on the technical skills of photography, the degree offers courses in communications, business studies and entrepreneurship.
"A lot of the time things just come up in other classes naturally. There isn't always specific class time dedicated to the business-related aspects of being a photographer," says Dodge.
Algonquin's website describes the entrepreneurship course as designed specifically for students who wish to be self-employed. Its topics include quoting projects, hiring professional models and dealing with copyright issues and small claims court.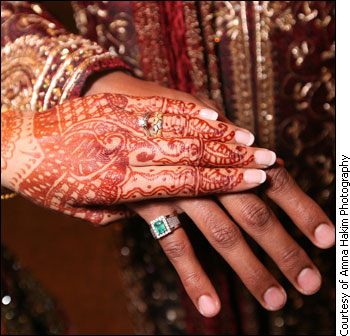 Typical of Hakim's work: a bride's hand covered in henna at a traditional Indian wedding.
Still, learning through experience may have its own benefits. Since moving here from Prince Edward Island, Blanchard and Harris have discovered how to capitalize on living in Ottawa. They are currently producing a calendar to support Candlelighters, a nonprofit organization that supports children with cancer and their families.
"[The calendar] is all local, and that's very important to us. The photographers, the promoters, the models and the fashion designers are all from Ottawa. Plus, it's for a great cause that has strong ties in this city," says Blanchard.
But even if young photographers are sufficiently business-aware, what lies ahead for the industry? Will it be possible to survive as a professional if your clients have access to the same high-quality equipment that you do?
"It's about reputation. I shot a wedding 25 years ago, and just last week I photographed her daughter's wedding as well," says Couvrette. "Service and dependability are not normally words you associate with photography, but this is a business like anything else. You want to trust your planner or your jeweller on your special day, and your photographer is no different.
"I'm just waiting for the next wave," he adds. "The latest one is deadly but things change, people change, society changes. I think people will go back to creating actual wedding albums once the Facebook fad or whatever washes away. Like the old saying goes, 'Whatever is old, is new.'"
Something to shoot for…
pointers from Paul Couvrette for new photographers
Get involved with associations like Professional Photographers of Canada, which can offer a lot of advice on self-employment.
Enter competitions.
Try to develop a great website. First impressions count.
Be active in your community.
Believe in the value of your work.