Tags
Related Posts
Share This
Fashion with a 'Gypsy' twist
It all started with a young woman who had too many clothes and not enough closet space. Aria Leroux is and always will be a collector of stuff. Just step across the threshold of her boutique, Gypsy & Co., at 209 Gilmour Street, and you'll know exactly what I'm talking about. For example, it might take you a few moments to realize that the vintage bicycle you've been admiring and wondering about (the one leaning casually against the picture window) acts as a kind of welcome mat, signalling that you've arrived.
The shop is chock-full of vintage finds — 1980s crop tops and high-waisted pants, '60s mod colour-block dresses and miniskirts, bell-bottom pants of the early '70s — all moderately priced and at your fingertips, waiting for a new home among the quirky and imaginative patrons who frequent Gypsy & Co. in search of that one-of-a-kind item.
And find it you will. Leroux makes use of every single inch of her tiny space: To your left and right, rows of clothing line the walls. Antique furniture items, scattered throughout, display an array of vintage baubles and jewelry on pretty silver trays. A plant hanger from the ceiling houses a collection of sunglasses. Like pieces of artwork, necklaces hang from tacks pushed into the walls.  A gilded, high-backed couch at the shop's front provides customers with a comfortable perch on which to watch the world go by.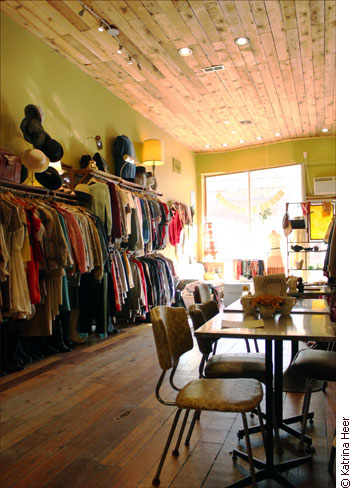 A soothing abundance.  As well as clothes and jewelry, Gypsy offers a cafe section where clients can sip tea and feel at home.
An alcove at the back of the room serves as the shop's kitchen, which is not just for show. Leroux and her business partner, Veronica Michelle, also operate a cafe. Each menu item is named after the ladies' favourite "local faces and places," says Michelle. "The Rockalily" (a sandwich made of granny smith apple, peach chutney and old white cheddar cheese) is named after the burlesque troupe that Leroux and Michelle belong to. And a music store called Record Shaap operates in the boutique's basement, selling CDs and vinyl records. Leroux doesn't own the record store but says she often gets owner Matty McGovern to supply music for cocktail and costume parties hosted at Gypsy.
Opened last spring, Gypsy & Co. is still a new kid on the block, yet it was nominated this past October for "Best Vintage Shop in Ottawa" by Ottawa (X)Press, the city's alternative weekly entertainment guide. Other contenders included Ragtime, Young Janes and Attic, and although Ragtime snagged the coveted title, Leroux says she is honoured to have been included among such vintage veterans ("Ragtime's been around for, like, 30 years," she mentions) and says it was "totally mind-blowing" that Gypsy took first-place runner-up.
In fact, Leroux — who began by selling clothes online and who recently opened a second Gypsy & Co. store, on Dalhousie Street — says she was surprised just by the nomination itself. But then again, a self-deprecating attitude is part of her charm.
Gypsy's price tags are marked no higher than $200 — a rarity in the finer vintage clothing business — and even in that range they seem a bargain: The pricier pieces tend to be unique staples of vintage fashion that you'd be crazy to pass up. "This space is as student-oriented as it can be without having to close," Leroux says of her prices.
In fact, Gypsy's prices are meant to be competitive even with huge retail clothing outlets such as at the Rideau Centre. For Leroux's loyal customers, buying local trumps buying corporate any day. And it's the ultimate form of recycling, she says.
Seeking that edge
Leroux makes an impression personally, as well. With fiery red bangs cropped neatly across her forehead, a number of facial piercings dotting her top lip and cheek, and a curvaceous figure that could rival Marilyn Monroe's, she reminds me of a friend's cooler big sister.
'This space is as student-oriented as it can be without having to close.' — owner Aria Leroux, on her prices
And why has Gypsy & Co. developed such a loyal following in its short history so far? Part of the answer surely lies in Leroux's work ethic and ability to adapt quickly to supply and demand.
There are lots of people in the vintage clothing business in Ottawa right now, she says, so she relies on resourcefulness to help her shop stand out. "I might not get every beautiful '50s prom dress that you can occasionally find in, like, the back bin at Value Village. You know, it's me and like, eight other people that are fighting for that. But I'll take something that someone else might overlook and be able to turn it into something equally amazing."
This conscientious approach is evident in many aspects of her boutique. In addition to the (as she says) "painstakingly handpicked" garments and accessories that line the shelves and racks, Gypsy & Co. carries a plus size and menswear line, two things that Leroux says the Ottawa vintage scene currently lacks.
Regarding menswear particularly, Leroux says she absolutely put her foot down, pledging to carry a decent collection. The shop boasts a sizable array of sports jackets, coats, pullovers and sweaters.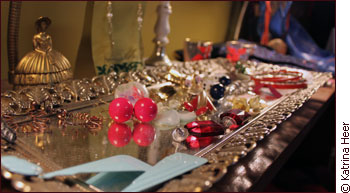 Accessory treats.  Vintage baubles and jewelry are served up temptingly, throughout the shop, on antique boudoir trays.
Originally from Vancouver, where vintage has always been a "huge fashion staple," she now uses her West Coast connections to keep Gypsy supplied from beyond Ontario. Her last big hometown haul came east in four large suitcases, none of which was packed with any of her own clothes. Other pieces come from the Maritimes, and the shop features Leroux's own handmade line, recycled from used clothing ("Unless it's a rag, it can be turned into something else" she says) and vintage fabric and material.
Timeless elegance
"Vintage fashion is almost like antique hunting," says Cate Lorimer, a contributor to The Genteel, an online fashion magazine. "You almost become, like, a collector." Lorimer goes only to thrift shops for her clothing and says she often finds items for pennies that look like something you could grab off the rack at H&M.
"It's just become such a fashion movement: having something vintage or used. It has a special ring to it now," Lorimer says. A lot of the appeal comes from runway and media-reported trends, she adds.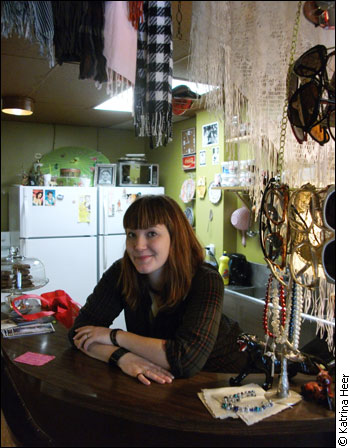 Fashion sphinx: Gypsy & Co. owner Aria Leroux in her element.
Lorimer says she has noticed many celebrities opting to wear vintage-inspired gowns and suits on the red carpet and notes that consumers, both men and women, look to awards season as a way to inspire day-to-day clothing choices.
Part of vintage's appeal is its aura of longevity, Lorimer adds: "The things that you do see in a vintage store are usually the things that are so classic and timeless that you can wear them forever. There's something really special about that."
And Leroux's selection certainly mirrors this ideology. Every piece passes through her skilled hands. She spends anywhere from half an hour to three hours on each garment, depending on how much restoration it needs. Pieces from the '40s and '50s require some research beforehand. This way, the original design stays as authentic as possible. Before it hits the racks, each piece is professionally laundered.
"I'm such a romantic. That's really what it is. That's what it comes down to. And to be able to breathe life into these garments, these physical manifestations of history, is really amazing to me," Leroux says. "And just making people happy."
Says Gypsy customer Jessica Hewson, "It makes me feel like I just stepped through a time portal to the 1950s or '60s. I love it, almost as much as I love shopping in my grandmother's closet, where things are free!"
"If I could design a perfect place I wanted to go, this would probably be it," jokes Leroux, gesturing around the shop. "It's like, it's a vintage store and there's a record store in the basement and, oh, guess what? They have vegetarian food."