Tags
Related Posts
Share This
A capital place to film?
It's no secret that many of America's biggest movies are actually shot in Canada. Big-name films like Total Recall, Twilight and The Day After Tomorrow were shot in Toronto, Vancouver and Montreal, respectively. In fact, these three cities pop up in nearly every discussion of Hollywood filming in our home and native land. Other major cities, like Calgary, Winnipeg and even Halifax are mentioned from time to time.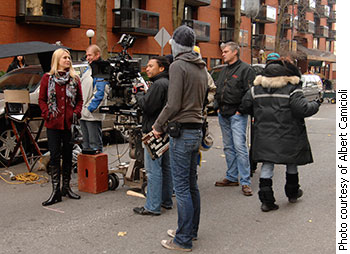 Ottawa equates to a generic city, in a scene for the 2011 Lifetime movie Another Man's Wife.
But what about Ottawa? What films have been shot here? This list is surprisingly short. Sure, a few well known films like Batman and Robin, The Sum of All Fears and most recently House at the End of the Street used Ottawa for part of their shooting schedule, but the city still can't compete with the other major shooting locations in Canada.
As Canada's fourth-largest city, and the second-largest in Ontario population-wise, Ottawa logically should have a decent number of people interested in developing the local film and television industry. Yet this list is also surprisingly short. Near the top of it is the name Neil Bregman. As founder and president of Ottawa's largest film production company and a producer of countless films, Bregman has plenty of experience under his belt. His company, Sound Venture Productions, has evolved over the years from focusing on radio commercials and audio production to film and television productions and more. Some of Bregman's most recent work includes producing the made-for-television movies Fugitive at 17, My Mother's Secret and The Wife He Met Online. All three were filmed in Ottawa.
Bregman sat on the board of directors for both the Canadian Film and Television Production Association and the Ottawa-Gatineau Film and Television Development Corporation, for nine and four years, respectively. He chose to leave the CFTPA, while the OGFTDC was dissolved. Bregman worked very hard to develop a film industry for the city, but despite his best efforts, he could do only so much.
"It's just not a production town; it's a government town," he explains. "There's never really been a lot of effort into attracting business here. We don't have a lot of infrastructure or critical mass, so it's a struggle to work here."
Ottawa's filming challenges

'We don't have a lot of infrastructure or critical mass, so it's a struggle to work here.' — producer Neil Bregman
Bregman says creative and human resources are a large part of the infrastructure that Ottawa needs, to grow its industry. There needs to be equipment and rental services, production facilities and the talented people to attract other people and companies to the area. Even tax incentives, something to attract productions, prove to be a pain, according to Bregman. "Our boundary is split between Ontario and Quebec, and that makes the provincial tax credit evaluations very difficult. This makes things more complicated than necessary, and many don't like dealing with that."
One of the other missing pieces to the puzzle is a sound stage, a building used for film and television productions. Most other major Canadian cities all have at least one sound stage, allowing for indoor sets or even motion capture for scenes requiring extensive computer-generated imagery. Without a sound stage, Ottawa doesn't offer enough to attract local or foreign production companies.
"All the really good people don't stay here. It's hard to build the critical mass to keep people here without the incentives that are necessary to attract business and keep it going here," Bregman says. "That's something that Invest Ottawa is trying to do."
Putting Ottawa on the A-list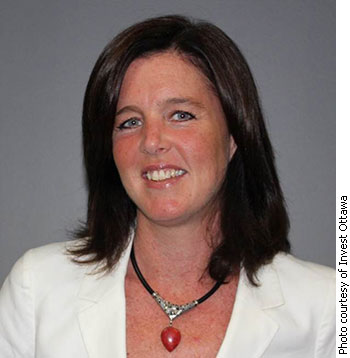 Geneviève Ménard-Hayles is the commissioner of the Film, Television, and Digital Media office at Invest Ottawa.
Invest Ottawa is the city's not-so-secret weapon trying to do what couldn't be done in the past: develop and grow a viable film industry. The company's Film, Television, and Digital Media office works with the City of Ottawa to help attract film and television productions. The FTDM office also collaborates with the National Capital Commission to review applications before issuing any filming permits. Certain high-profile areas, like Parliament Hill or the city's schools, can be filmed only under certain circumstances. For example, a horror movie probably wouldn't be allowed to be shot inside Parliament, but a Jack Layton biography would have a much better chance.
Much of the FTDM office's work is left in the hands of Commissioner Geneviève Ménard-Hayles. Being essentially in charge of this whole operation, Ménard-Hayles is a very busy person. In fact, when reached for comment, she had just returned from a Los Angeles trip the night before. She was there on a mission to get big studios interested in Ottawa. Ménard-Hayles acts as a sort of envoy between Ottawa and various production companies, to show them what this city is all about.
"I had over 30 appointments specifically for Ottawa, to get these production companies such as Warner, Disney and Paramount to think about Ottawa," she says. "They were very happy to hear from us because it's a new destination — it's fresh. The locations haven't been used; it's film-friendly; and the cost of shooting is cheaper than Toronto, Montreal and Vancouver. So it's a huge competitive advantage for our region."
While a lot of focus has been on shooting costs, Ménard-Hayles mentions the variety of locations. "The roster of locations we have to offer here in Ottawa is something the studios are really keen to know more about and explore with us," she says. "Being able to shoot at one location downtown, and 20 minutes later you're on a lakeside somewhere else, is something completely different." The short travel time between Ottawa locations may provide an edge, compared to other popular shooting destinations.
A sound idea
'Being able to shoot at one location downtown, and twenty minutes later you're on a lakeside somewhere, is something completely different.' — promoter Geneviève Ménard-Hayles
Ménard-Hayles also acknowledges the need for a sound stage. "If we don't build this, we just aren't going to be able to grow our industry. This is what is needed to take us to the next level." Invest Ottawa had put up $1.5 million towards the construction of a sound stage late in 2012, and several companies put in bids to receive such funding. Neil Bregman, backed by many key players in Ottawa as well as a company from L.A., had put in a bid. By January 2013 Invest Ottawa rejected Bregman's bid without giving any reason. Bregman says the sound stage funding will go towards a company from Toronto, but details are still scarce as Invest Ottawa has remained tight-lipped.
With a sound stage in place, Ménard-Hayles says she believes Ottawa really will be a one-stop shop for many films. Bregman says he is more skeptical, explaining that a sound stage elaborate enough to attract larger productions may be out of Ottawa's reach at the moment. "People who go to sound stages expect a certain level of facilities, infrastructure, resources and experience. They're a very difficult thing to compete with when you're talking about Montreal, Toronto or Vancouver."
He says the city should expect a sound stage geared towards smaller low-budget productions, a point Ménard-Hayles also makes clear. Ottawa already has numerous companies in the city dedicated to smaller productions. These include Zed Filmworks, which co-produced the recent House at the End of the Street, and Affinity Productions, which specializes in production and post-production services for smaller companies.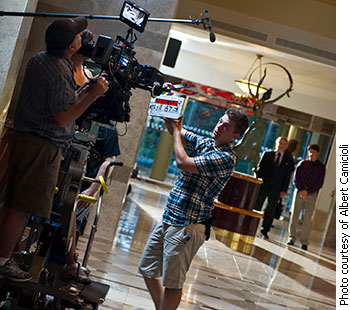 A strong political lobby? The 2013 film The Perfect Boss made good use of several Ottawa building interiors.

Aside from children's programming animation, Affinity Productions has a tendency to work with non-fiction productions, but this is something that may change in the future, according to Post-production Supervisor David Zimmerley.
"While we are not currently in the business of producing fiction, we already offer a variety of services to a number of fiction features each year," he explains. "Our client base is very mixed, and as our client base expands in the coming years, so will the services they may require."
Since many local companies deal with government or corporate videos, shifting their focus would be necessary to further develop the local film industry. Otherwise, Ottawa will have to rely on foreign companies, like the ones Ménard-Hayles talked to while in L.A.
Despite Bregman's skepticism (or is it realism?), the future may be bright for Ottawa, once the sound stage is built and the city's infrastructure is improved upon. Ménard-Hayles seems to think so.
"Ottawa has been named one of the top creative cities in Canada, but nobody has really told the story. So our goal for 2013 is to let everybody know what will be happening in Ottawa. We're going to tell that story through what we're doing for our film industry."
What are tax incentives?
Because movie productions can provide a small economic bonanza to the general communities where the filming takes place, many countries and individual provinces or states have in place some form of tax incentive program.
In Canada, there are two levels of incentives: federal and provincial. The Canadian Audio-Visual Certification Office handles the federal tax credit of 16 per cent for foreign companies and 25 per cent for Canadian companies, while the Ontario Media Development Corporation and Canada Revenue Agency is in charge of the province's tax credit of 25 per cent for foreign companies and 35 per cent for Ontarian companies. The provincial tax credits may be stacked with the federal ones, giving an even bigger break to production companies.
These tax credits are determined after production is finished and typically take the form of reimbursements to the film company.