Tags
Related Posts
Share This
Spicing up Ottawa's street food scene
Curried pumpkin soup, crispy polenta with porkbelly and homemade donuts may not seem the kind of food acquired at roadside, but thanks to a new batch of street vendors, that's just a sampling of what's being served on Ottawa streets.
Ottawa foodies have been chomping at the bit for the vibrant street food scene that's been trending in the U.S. for several years, with gourmet food-on-wheels available in almost every major city. (Portland, Oregon, in particular has become known as the capital of street food.) Thanks to an October 2012 Ottawa city council vote, the city seems finally to be moving to embrace this latest food craze.
In an attempt to change Ottawa's reputation as the "city that fun forgot," councillors voted to add 20 new spaces for food trucks and carts on city property, bringing the total city spots to 64, in hopes that the addition will help foster the kind of vibrant and eclectic culture that's become synonymous with street food.
"We see this as an opportunity to complement not just our festival and fair scene but also the other things we have going on, with a unique street food opportunity," said Councillor Mark Taylor, the man at the helm of the project.
Young adults' obsessions with food and social media, together with the time pressures of urban lifestyle, are fuelling street food's surge.  "Foodies" depend on their favourite food trucks to deliver gourmet satisfaction in a fraction of the time and for a fraction of the price of the traditional bricks-and-mortar restaurant.  The enthusiasm has even spawned a television series, Eat Street, which documents some of the most popular food trucks in North America and the U.K., whose offerings range from creative spins on the hot dog (including one smothered in macaroni and cheese) to such exotica as crocodile gumbo.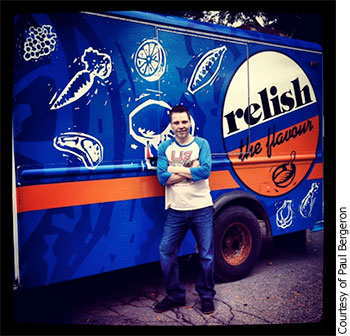 Paul Bergeron at his eye-catching "Relish" truck: a rotating gourmet menu so popular that he's often sold out before 3 pm.
Ottawa's street food scene has seemed lacking for enthusiasts like Kathy Ferguson, an Ottawa-based blogger for Eat Street's website, who has eaten at more than 110 food trucks across North America. It's no surprise, she said, that Ottawa's conservative nature has kept it from fully embracing the trend.
In the last few years, however, trucks like "Relish," "Stone Soup Foodworks" and "Trailer Pork Boys" have opened, providing Ottawans a convenient taste of both the staple and gourmet food options. Many of these gourmet food trucks were at the time required to open on private property, due to the city's prior restrictions on street vending. But the newly authorized spaces will allow trucks to do more business on city property.
Paul Bergeron, owner of "Relish" — a food truck parked at the University of Ottawa campus whose offerings range from gourmet macaroni and cheese to chimichurri beef hamburgers and even gluten-free fare — said it's not surprising that people are interested in street food. In fact, he said, in many cultures, especially in Asia, street food has always been the best way to eat.
"Everyone else has known that for hundreds of years; it's just taken Canada a little longer," said Bergeron.
The trucks themselves are as bold as the food they serve. "The Feisty Jack," a truck in Toronto that offers updated classic British food, is covered in the image of a Union Jack (with teeth!) and boasts the slogan "Keep calm and aim for the mouth."
Part of the draw, according to Ferguson, is the personality of the vendors themselves, and their passion for food — something that shines through in Bergeron's ever-changing menu.
"I just want to put out a good product.  And I like to see the reward that I get usually instantly," said Bergeron. "That's what keeps me going."
Good food, fast
"The compelling nature of street food is kind of the same thing that compels people to go to festivals and fairs," Councillor Taylor said. "People, especially the younger generation, want to be wired in and hip, and they want to feel connected to their community in entertaining and integrative ways."
A major goal is that Ottawa food trucks will act as a draw for tourists, Taylor said. Having good, unique, immediate food available will tie into a mindset of being able to venture out for a day in the city without having to worry about food. Many of Ottawa's trucks operate year-round, but thrive during summer festival months when tourism and foot traffic peak.
The reality is that food trucks do not have a single audience; they appeal to anyone looking for good food, fast. Both of the trucks on the University of Ottawa campus cater primarily to the student population, while trucks like "Chef on Wheels" or the hot dog cart at Bank and Laurier sell mostly to the business people in the downtown core. Trucks operate throughout town, appealing to all sorts of demographics: late-night snackers or just anyone rushing for lunch at noon.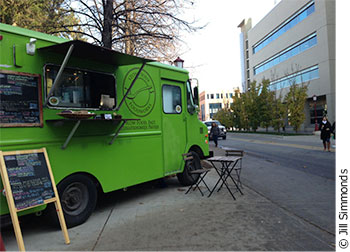 Green machine: Stone Soup Food Works is open Monday to Friday, serving grateful students at the University of Ottawa.
Social media are part of the trend. Bergeron keeps fans updated on his truck's daily menu via Facebook and Twitter and has even expanded into photographing his food with help of his iPhone and Instagram account. In some other cities, followers can download iPhone Apps which direct them to the nearest mobile vendor based on their own GPS location.
According to Jennifer Demarre, co-owner of Ottawa's "Trailer Pork Boys" (a food truck serving classics like pulled pork sandwiches), a social media presence is just as important as a great menu.
As to why Ottawa has lagged in the food truck phenomenon, Demarre blames a number of prohibitive laws. For example, until 2007, hot dogs were among the only things allowed to be sold on city streets. Further, due to space restrictions, most Ottawa trucks are stationary all day, while trucks in U.S. cities often are allowed to follow the crowds.
Furthermore, says Demarre, weather conditions here differ from those in Portland and Los Angeles. In the end, harsh winters that reduce foot traffic and complicate truck maintenance may yet prove too much of a barrier for any real street food community.
'Please, sir, can we have some more?'
The 20 new spaces will be awarded through a selection process wherein a panel (including Councillor Taylor, an Ottawa Public Health representative, a Canadian Culinary Federation member, a local restaurateur, and others) will judge prospective vendors. "It's going to be kind of a talent contest," Taylor said.
The city received 61 applications for the new spots (45 applications for trucks, 16 for carts) and will announce the recipients in early 2013. Vendors are being judged based on business plan,  "unit design," vendor experience, "overall readiness" and "menu diversity and innovation," Taylor said.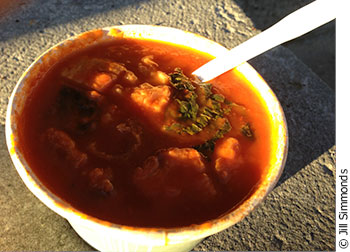 Fresh off the truck: Stone Soup Foodworks makes all its soups, sandwiches and tacos with local and organic ingredients.
Prior to the council vote, there have been 69 food trucks operating in Ottawa, of which only 19 have been allowed on city property. Many trucks, like "Relish" and "Trailer Pork Boys," operate on private property. The new city-property spots are located throughout town, some near Sparks Street Mall, Confederation Park, and Dundonland Park, as well as in the St. Laurent mall area and in Stittsville. Notably lacking are spots in the ByWard market.
The hope is that the initiative will emulate Vancouver's highly successful 2010 pilot project (see sidebar).
Critics of the selection process say it's unfair for the city to regulate applicant-vendors' menus and that just because someone might lack food-industry experience doesn't mean he or she wouldn't thrive with street food. But the goal, Taylor said, is to encourage a variety of different food options and a little ingenuity, to add spice to Ottawa's stale street scene.
However, Councillor Rick Chiarelli was firm in asserting that it is not the city's place to determine vendors' menus. The city, he said, shouldn't try to outguess the business people — they know what their customers want. Chiarelli explained that the city would never try to regulate a restaurant's menu, so why meddle with an applicant-vendor's menu?
The panel's criteria will not affect existing vendors, but the hope is that such criteria will encourage a more diverse range in available street food.
"We can't always stay the same; it's got to change," said Terry Scanlon who has been selling hot dogs and sausages on the corner of Bank and Laurier Streets since 1982. "This is a good time for it to change, especially in the capital city."
The street food industry provides a unique opportunity for vendors, as it does for patrons, Scanlon said. As compared to opening a restaurant, starting a food truck or cart business requires much less investment and risk, while providing great potential for creativity and an entrée to the culinary scene.
So, will street food prove to be Ottawa's ticket to a new life as Fun City? While people like Ferguson are hopeful, Chiarelli maintains it'll take more than a few gourmet hamburgers to reinvent Ottawa.
"If you're looking for fun," Chiarelli said, "the city government is not the place that's going to provide it."
View Ottawa Food Trucks in a larger map
Vancouver's success
Vancouver's pilot project was announced in June 2010, and in its three short years has seen a food truck boom. Interested applicants were vetted by a panel chosen by city staff, but then ultimately decided by lottery.
Around the same time that Vancouver's street scene was flourishing, Toronto's over-regulated "Toronto A La Carte" program was falling hard.
Prospective vendors had to pay almost $3,500 a year in licensing fees and were required by the city to purchase specialty carts costing more than $30,000. The selling of the classic hot dog and fries was forbidden in favour of more eclectic offerings.
Vendors became so indebted that the program imploded, and city councillors wrote it off as a complete failure.