Tags
Related Posts
Share This
Nerdlesque: worshipping the geek gods
From the number of video games that Del Roba references in casual conversation, her Xbox gaming console must have provided marathons of dedicated play.
Now, that Xbox is shattered in pieces — smashed by Roba not as a result of a frustrating loss, but because she needed to wear it to her job.
Roba, whose real name is Frankie, is the founder of the Ottawa-based Browncoats Burlesque, a one-year-old burlesque troupe that celebrates fringe-culture enthusiasms in an onstage form of burlesque now burgeoning in North America called "nerdlesque."  Browncoats Burlesque — a reference to the cult TV show Firefly — features acts with such nerdy themes as cult movies, comic books and video games (hence the costume composed of Xbox hardware).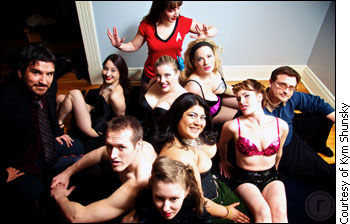 Geek chic. Ottawa's Browncoats Burlesque troupe features Del Roba, top, and Foxie DeVille, second from left.
Browncoats Burlesque is one of several burlesque troupes across North America to showcase nerdlesque, but this quirky subgenre has grown in popularity only within the past two years.  One early notable troupe of this emergence was formed in 2008 under the name Nerdlesque to be a monthly burlesque series exploring nerd culture.  Since then, most major U.S. cities with a strong burlesque presence showcase nerdlesque acts, such as the Flaming Dames' nerdlesque-themed show at Chicago's New Millenium theatre company, or Skill Focus: Burlesque in Orlando, or Whedonesque Burlesque in Seattle.
For Roba, Browncoats Burlesque has been a labour of love.  The self-professed nerd says she had seen the Devil Dolls burlesque troupe in Ottawa and was inspired to create her own burlesque show, based on something she knew best.  And what what she knew best, she says, was nerd culture: video games, cult movies, science fiction series and other interests typically classified as "geeky."
Conveniently, her first recruits for the show were friends from her live-action role-playing group, or LARP.  (LARP is an activity in which players create settings and characters and improvise scenes in a real-life setting, creating challenges for their characters not unlike storylines in video games.)
Dorks in short shorts
As risqué as burlesque is, the performance art attracts people with a variety of day jobs.  The performers with Browncoats Burlesque include workers for several branches of the government, a chef, and a neuroscience researcher.
A burlesque show can feature various sideshow performances, but the defining acts showcase performers — usually women — removing their clothes.  The main difference between burlesque dancers and other strippers is the tongue-in-cheek humour, which satirizes the sexualization of stripping.
Roba says that, friends and supporters aside, their audiences tend to span a variety of demographics.  She says that nerdlesque has a strong marketplace appeal.
"Nerdlesque is definitely something I think people can get behind. I find people are more able to relate to the performances than with some other styles of burlesque," she says. "Most people can feel for the awkward nerd just trying to be cool.  Nerdlesque, in many ways, is a form of 'fan fiction' amongst the many that make up 'fanculture'. That equals an army of nerds that could possibly get behind nerdlesque."
'My influences are ballet and video games.' — Foxie DeVille
Aside from group numbers, the members of Browncoats Burlesque write and choreograph their own acts.  Under the wide umbrella of "nerdiness," the range of ideas seems unlimited.
You'll find, for example, a fervent Batman fan parading as the villains Poison Ivy and Harley Quinn, and an avid gamer pulled off a complicated ode to the computer game Tetris.  Performers say nerdlesque allows them to express and embrace the niche interests of their personal lives.
Foxie DeVille (who has asked to print her stage name to preserve her privacy) says she already had a background in burlesque before joining the Browncoats Burlesque.  The classically trained dancer lists-off a number of Hollywood influences that attracted her to more complicated choreography, such as a dance using large fans.  Despite her traditional training, she says she feels inspired by creative opportunities with the pop culture references.
"My influences are ballet and video games," she says, noting the unusual marriage of the two hobbies.
At last Halloween's show Freeks N Geeks, Roba performed a number based on the cult film Attack of the Killer Tomatoes, which she says she chose based on her passion for critically and commercially unsuccessful movies.  The emcees gave the audience red balls to throw at her during the performance, symbolizing a downpour of tomatoes from the film.  Though at first uncertain whether the audience would participate, she says that she was so impressed with the audience's gusto in their throws that she cheerfully smiled and thanked the crowd when she was supposed to pretend she was dead.
"Audience interaction is pretty awesome," says DeVille.  She says that although the audience doesn't always understand the reference, they engage with the comedy and light-hearted nature of nerdlesque, more than with other burlesque shows.
Enthusiastic audience responses like these have encouraged the spread of nerdlesque troupes and individual acts, which in the United States now range from Seattle to New York City.  Montreal and Toronto feature individual nerdlesque acts, but Browncoats Burlesque is currently the only full-time, nerdlesque-only troupe in Canada.
Revenge of the nerds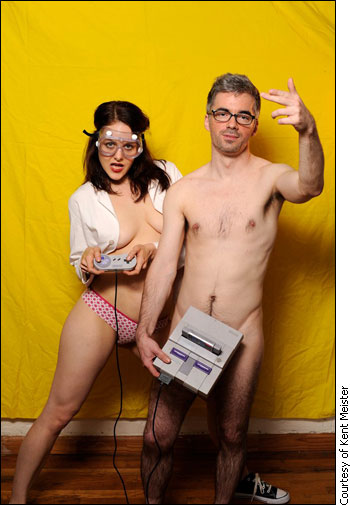 Software and hardware. New York City's Nerdlesque boldly goes nude where no nerd has gone before.
Chris Chappell is a co-producer of the New York City–based troupe Nerdlesque, which is a joint venture between Sneaky Snake Productions and Captain Sharky's Historical Gender Equality Reactualization.
Chappell says he suspects that the rise in nerdlesque groups across North America can be attributed partly to a general cultural shift.
"There's this really complicated intersection of hipness and nerdiness," says Chappell.  "There's a mainstreaming of a lot of these [nerdy] things."  In other words, "geek is chic": It currently is trendy to celebrate the otherness of traditional nerd interests, and this new value is reflected onstage.
He says that in North America nerd pride is on the rise. "People have really incorporated that into their idea of culture.  And [nerd appeal in the arts] is happening organically as a result."
Yet Chappell says there is a danger of not sufficiently honouring the original material from which nerdlesque troupes draw their references, indicating concern about taking away some of the substance of nerdy sources after they've hit the mainstream.  Still, he says nerdiness is a "vibrant trend and community," and his troupe is proud to be a part of that.
For Browncoats Burlesque, whose acts have such personal significance to the performers, honouring the nerdy references is a priority.
Above all, though, the performers insist on one key component.
"Basically, we want everybody to have fun.  That's all we're really trying to do," says Roba.
Even if it means smashing her prized Xbox for the show.
Gaining credibility: a timeline of nerds in pop culture
Early 1950s: Introduction of the term "nerd" as a synonym for "square." Some argue that the term originally appeared as "knurd," or "drunk" spelled backwards — meaning someone more likely to study than to party.
1962: Peter Parker appears as the unlikely alter-ego of the superhero Spider Man. Acne-ridden, smallish and socially awkward, this science nerd is a victim to bullies at school but a wisecracking, acrobatic bane to criminals in the streets.
1984: Revenge of the Nerds chronicles two nerds fighting a fraternity on a fictional college campus. In most of the film, nerds only ally with other nerds while jocks can garner support from everyone else.
2005–2008: Ashton Kutcher produces the competitive reality TV show Beauty and the Geek, which pairs beautiful yet unintelligent women with socially awkward men with the goal that they'll learn from each other; the "geeks" range from certified geniuses to simple-minded Trekkies.  However, an experimental female "geek"/male "beauty" pairing fails to win audience popularity.
2007–present: Chuck Lorre's sitcom The Big Bang Theory explores the relationship of a group of nerds with their attractive, perky neighbour. Each episode uses gags featuring a variety of nerdy interests, from science to comic books to cult movies.