For centuries alcohol has played a prominent role in social events.
Arguably, the bottle holds its most iconic status in the hearts of university students across the nation.
This is why friends of Carleton University student James Craig, were so surprised when he decided to lay down the liquor for the entire month of November.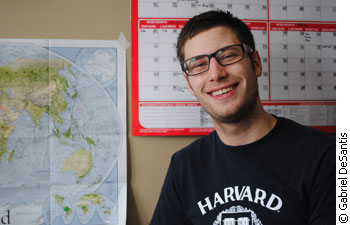 "One Sunday I woke up and I wasn't feeling on top of my game," recalls Craig. "I wasn't impressed with myself and I said, 'you know what? I'm not gonna drink for a month.'"
James considers where to go with the money he has saved.
Craig's decision was made to improve  his lifestyle, but before long it provided him with some valuable financial benefits.
"When you add everything up, weekends aren't very cheap occasions," says Craig, 21.
"I realized I was saving an average of $80 a week by not consuming alcohol."
Craig breaks down one weekend's expenses as follows – $20 for a 12-pack of beer purchased from The Beer Store and consumed during the night's "pre-drink" stage, $20 for cabs and $20-$60 for drinks purchased at the bar.
Craig clarifies that this is merely an approximate number and not every weekend is spent at the bar. But if most undergrads spend an average of $80 a week on booze, that works out to anywhere between $2700 and $3200 annually, an expensive luxury for budget-conscious students.
Students are spenders
This figure may come as a shock for some, but not for bartender Anthony Luna. As a four-year veteran at Oliver's, Carleton's campus pub, Luna sees students empty their wallets every week just for a few drinks.
"Consistently there are a couple of students that will run about $150 tab about once a week," says Luna.
"A couple weeks ago three students had a $310 tab."
Luna admits that these are above average spending habits and agrees with Craig's assessment that the typical cost for a night out is around $80.
So why is this generation of students so dedicated to the drink? Why are we so different?
According to Dr. Anne Lavack, a board member at the Canadian Centre on Substance Abuse in Ottawa, we aren't.
"Students for many years have always found enough money to buy alcohol," says Lavack.
"It's perceived to be part of the entertainment experience and so students have a certain amount of their budget that they set aside for entertainment."
Marketing menace
Dr. Norman Giesbrecht, a senior scientist at the Centre for Addiction and Mental Health in Toronto, doesn't quite agree that things are just like they've always been.
"What is different now, is that in Canada you have much more extensive marketing of alcohol than you did 20 years ago," says Giesbrecht.
Students can also consider having non-alcoholic alternatives. There should be no stigma attached to having a non-alcoholic beverage.
"These ads are targeted towards the young population."
Both do agree on is the rise in binge drinking and the health risks that go hand in hand with it.
Giesbrecht recited a grocery list of physical complications caused by over-consumption consuming and says moderation not only adds money to your wallet,but years to your life.
"If students are prepared to cut down on the occasions they drink, skip some days and not have any alcohol and combine alcohol with meals, a lot of these risks can be modified in a positive direction."
Lavack agrees and believes that a person shouldn't feel badly about not wanting to drink at a social event.
"Students can also consider having non-alcoholic alternatives," says Lavack.
"There should be no stigma attached to having a non-alcoholic beverage."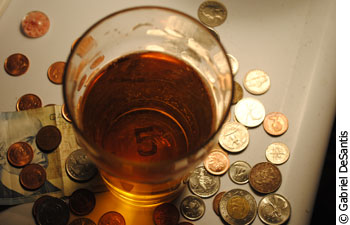 That's all that's left from $20.
For Craig, a month away from booze did pose its challenges. Some situations in which he was the only one not drinking were awkward at first, but that didn't last long.
"At first it was a little strange," recalls Craig about his first alcohol-free night out.
"But after a little while, I realized I was with friends and that we were just there to have a good time.
Aside from having a heavier wallet, Craig soon discovered other benefits of not drinking booze at the bar.
"People just started giving me free stuff," says Craig.
Counting the benefits
On more than one occasion, as soon as the server or bartender learned Craig wasn't drinking, he was offered unlimited pop on the house. One particularly charitable server even gave him milk and cookies.
Luna says this kind of generosity towards the non-drinkers is common in most bars.
"A lot of the time it's up to the discretion of the bartender," says Luna.
At the end of Craig's alcohol-free month, he did celebrate with a drink but also took with him some valuable knowledge and has since cut back significantly on drinking.
"I realized it's still socially acceptable not to drink at a gathering," says Craig.
"And it saves you a hell of a lot of money."