Some university students are learning the hard way about what a poor spending record can mean for their future.
One Carleton University student, who wishes to remain anonymous, says her student loans have put her in "extreme debt."
She says she is now late paying for what she calls 'essentials', like a cell phone. Those late payments have killed her credit rating – something that financial analysts agree is of crucial importance.
"When I went to take out a student line of credit I needed my mom to co-sign because my credit score wasn't good enough," she says. "I'm worried about what's going to happen after I graduate and will be looking for loans to finance other things I want in life."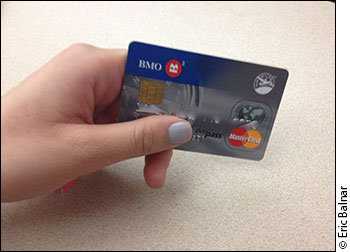 Financial advisors suggest students get a credit card and make small purchases to build their credit score
According to the Canadian Federation of Students, thousands across the country echo her concerns. That's why some financial analysts say students need to build a strong credit rating more than ever.
Sheri Creese, an Ottawa-based mortgage broker, says a credit score, also known as a credit rating, is basically a spending resume.
"You see a lot of students brush off their payments like it's not a big deal," stresses Creese. "But it is. It really is – it's a really big deal."
A credit score is calculated by lenders by examining past spending records like credit cards, cell phone charges, cable, internet charges, loans and rental payments.
Creese says without a good credit rating, students and new graduates will be rejected when applying for a loan for a house, a mortgage, a car or other desiresin the future.
"Lots of people want these types of things," says Michael Carson, a bankruptcy trustee with Spurgeon Carson Associates. "You can't let poor spending now affect your spending habits later."
Spend early, pay often
Carson says it's common for students or recent graduates to approach him with mounting debt or poor credit. He says there are ways to avoid a bad credit score, even if you don't have much money.
"Credit cards are available all over university campuses. If you take one of those out, keep a small running balance, and always pay it off you can develop a favourable spending history," he says.
Creese agrees. She saystaking out a small line of credit from a bank and paying it off quickly while always paying your cell phone bills are simple ways to build an excellent track record
"It's definitely something you have to work at, but something that can be achieved if you manage your funds right," she says.
Easier said than done
But students say keeping a polished spending record is not that simple.
Sandy Hudson, the Ontario Chairperson for the Canadian Federation of Students (CFS), says it's unrealistic to think most students can pay off even small totals on a credit card.
"How are we supposed to build a line of credit if we're already flooded with debt? I get the sense this is an overwhelming problem for students. It's really depressing," she says.
According to Statistics Canada, in 2005, 57 per cent of graduating students had student loans and average debt was approximately 18,800 per student.
The combined student debtin Canada is now approaching 15 billion dollars, according to the CFS.
Success is possible
Despite stories of frustration with payments, at least one student says this financial advice can work. Fourth year Carleton student Ginny Powell says she has worked on her credit rating for a while, despite using a line of credit to help pay for her education.
She says the results were incredible as she and her boyfriend were approved for a mortgage on their first house before graduation.
"I always have a small running balance on my credit card, and I always worked hard to pay if off," says Powell. "My boyfriend made sure he paid his car loans and now we have a house."
Powell adds she also used her good credit rating to secure a line of credit.  She says she's confident she'll be able to pay it off.
"It makes balancing her finances easier while also building a good credit history," she says.
Carson says debt is not a problem if managed properly. He suggests a better debt awareness programs at universities.
"Why not have a frosh event, or something in the first couple weeks of school, that focuses more on how to develop good spending habits?" he says. "I hate to see a student's rating dip because of an honest mistake they made in first or second year."