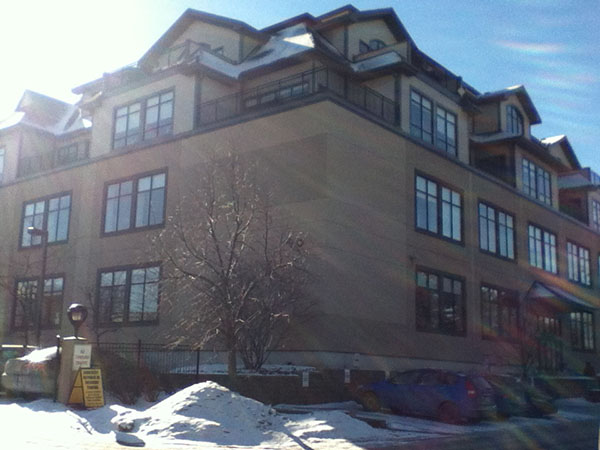 The 80 Aberdeen
Bruce Lazenby stands at a podium at Ottawa City Hall, beaming at the waiting cameras and reporters. The head of Invest Ottawa was there to announce the success of the city's economic development agency's newest venture capital fund in Ottawa in more than a decade.
But he had even more to smile about.
About an hour later the city's finance committee agreed to support Invest Ottawa's proposal to move from Little Italy to Bayview Yards, and create an "innovation centre" to help start-up companies and entrepreneurs.
In reality, Lazenby says the "innovation centre" is more office space and room to help companies network and raise money.
Invest Ottawa officially opened for business at 80 Aberdeen Street in Feb. 2012.
OUT OF SPACE
Less than a year later with 36 companies, 100 entrepreneurs and roughly 1000 people a month using their space and services, they have run out of space.
"We're excited about the new location and its position," said Bruce Lazenby, Invest Ottawa's president and CEO.
Lazenby said the new space will be near the intersection of the Light Rail Transit system and the O-Train.
He says that intersection will prove vital, with hopes of encouraging more students from Carleton University and the University of Ottawa to use their services.
The city has agreed to donate building space in the Bayview Yards to the proposed innovation centre. The municipality has also declared the project  will be a Capital Investment Track property (which ensures help from the city in facilitation).
A NEW SITE
The new site will feature 100,000 square feet of office space as well as studio space to help boost Ottawa's fledgling film industry.
"This is the last, large tract of land left in the city," said Mayor Jim Watson. "We have a great opportunity left before us."
Watson and the Finance Committee presented no objections to the report and loudly lent their support.
The new office space is scheduled to open in 2016 and will feature areas for private sector and non-profit use.
With additional support for the project pledged by the provincial government, to the tune of $15 million, Invest Ottawa has the chance to mirror the success seen  in similar innovation hubs in Waterloo, Toronto and Kingston.
Innovation centres, like the proposed site for Bayview, have sprung up across Ontario with more people looking for help to get their businesses off the ground.
"I think Ottawa has all the ingredients…there's an opportunity to bring companies back together," said Avvey Peters, vice president of external relations for Communitech – a Waterloo innovation centre.
THE COMMUNITECH MODEL
Communitech started in 1997 and has emerged as one of the province's premier hubs.
They help companies network and meet investors, as well as lend advice and support.
In 2010 they were given $26 million by the Ontario government and turned it in to a $107 million investment centre and digital marketing strategy.
"What we've seen is that there are very typical ingredients to successful clusters of centres," said Peters. "You need good sources of talent, you need good strong technology companies and you need companies at all stages of life."
Ottawa has a long way to come before they are close to matching Communitech, which may boast smaller office space but houses close to 120 companies in its building.
A report by Deloitte estimated that from 2008 to 2011, Communitech generated roughly $840 million in economic activity, through start up companies.
Lazenby freely admits Invest Ottawa would be studying similar centres across Ontario.
"We're going to steal all of their ideas," Lazenby said. "One disadvantage we've had is that we were one of the last communities to have a centre but the good news is we can now learn from [other centres]."
With three years, and backing from the province and city, Invest Ottawa has more than enough time to craft a plan for Ottawa's next step on the business stage.