An overflowing toilet forced Kayleigh Donahue and her roommate out of their rental condo last winter — and like most renters in Canada, they had no tenant insurance.
"I just never had a bad thing happen and I've been renting since I was 18," said the 25-year-old University of Victoria master's student.
"You don't really think about getting renter's insurance until you need it."
Besides soaking up clothes stacked under Donahue's bed, the flood caused no damage to her personal belongings. The biggest setback, however, was having to move out temporarily and then return to what she called a "construction zone."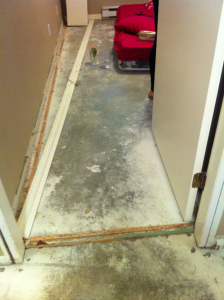 "They came in and tore out all of the flooring and, because we didn't have renter's insurance, we couldn't live somewhere else during that time," Donahue said.
On top of covering the replacement cost of renters' personal belongings and legal costs from lawsuits, tenant insurance also pays a portion of additional living expenses incurred during repairs.
"Something that's not often thought about is where you go or what you do if your unit or another unit in the building is damaged and you can't live there for a period of time," said Pete Karageorgos, spokesman for the Insurance Bureau of Canada, a trade association that represents Canada's home, car and business insurers.
According to Statistics Canada, less than half of the country's renters (42 per cent) have tenant insurance while 97 per cent of homeowners insure their homes.
Pinning down exactly why so few tenants sign up for insurance is no easy task. Many renters fail to realize the full value of their personal belongings and some wrongly believe their stuff is covered by their landlord's insurance, Karageorgos said.
Donahue's landlord didn't hold her liable for the water damage but also didn't bother replacing the floors for the three remaining months of her lease, leaving cold concrete, dust and exposed nails as part of the decor.
"It made my life extremely difficult," she said. "Especially when I'm in grad school and don't have a stable place to study. I always had to be out, I had to spend long hours at school because going home was a disaster."
Carleton University economist Radovan Vadovič specializes in behavioural finance to better understand how people assess risk and make financial decisions. He suspects many people think the costs of tenant insurance outweigh the benefits.
"The chances of a loss are very unclear. There is very little information out there on the frequency of accidental loss of personal property," Vadovič said.
"With car insurance, for instance, we have a much better idea. We regularly see or hear about traffic accidents. In face of this ambiguity, there is much wiggle room and it is easy to underestimate the chances."
For Donahue, it was a second flood months later — this time from the kitchen sink of another apartment — that pushed her and her roommate to purchase tenant insurance.
"It didn't cause damage to our suite but it caused damage to the suite below and it's still ongoing litigation," she said, without disclosing any details about legal costs.
"As soon as we moved into the place that I'm in now, we got renter's insurance."
Karageorgos insists it's an affordable, worthwhile investment that "probably costs less in a month than daily coffee runs." Premiums typically range from $10 to $50 per month, depending on the value of the tenant's contents.
"It's important for people to sit down and actually look at what their situation is and whether they can afford not to have insurance if something does go wrong," he said.
"We're not having an exercise about economics here but about real lives."