When one of the leading forces in the global cable industry, CableLabs, selected Edgewater Wireless to join its accelerator program in December 2016, it began to pave the way to success for Edgewater
The Ottawa-based company focusses on creating powered access point products for high-density Wi-Fi networks, providing wireless access in high-traffic areas.
"CableLabs is among the largest buyers of Wi-Fi on the planet. We've spent the last year proving out the technology in their labs and making it stronger, and they're helping us sell it to the cable industry," says Edgewater President and CEO, Andrew Skafel.
Edgewater's board believes that by completing this accelerator program, it will allow for the company to broaden its networking opportunities and succeed more as a developing company in a growing industry.
And a developing company it is. Edgewater reported a loss of nearly $250,000 more than the previous year, with net loss currently sitting at $911,885 for the three months ended July 31, 2017, compared to last years' loss at this same time of $741,740. In addition to this loss, the company is not bringing in enough revenue to counteract the losses, only bringing in $27,718 for the three months ended July 31, 2017. Though Skafel recognizes this, he says that these financials don't reflect all of the work being put into the company to develop the products and expand the reach.
University students with multiple mobile devices put pressure on high-density wi-fi systems"We're an early stage company and transitioning to product and revenue. When you look at the company and the financials you think 'Oh those financials are crap', the reality is that there's a lot of things happening that aren't necessarily reflected in the financials," says Skafel.
Capitalization and Communication Challenges
Adding on to the financial challenges that come from being a developing company, Edgewater is also facing networking and communication outreach challenges as well as occasional cash problems.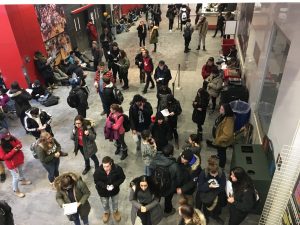 "Cash is always a challenge, the process of getting properly capitalized. It's also tough to understand what our technology does best. That was a big challenge to overcome," says Skafel.
In addition to capitalization issues, he says that the company is also broadening its outreach and cooperating with other companies. He says that with Edgewater being an early-stage company doing something different in the Wi-Fi industry, it's all about communication and getting its story out there.
Eric Kys is a recent graduate of the Sprott School of Business holding a degree in Finance and Financial Management Services. He echoes Skafel's thoughts and says that an important part of being an early-stage company is recognizing other competition and learning from previous mistakes.
"If people are willing to pay for your product or make the conversion over from a competitor, then you've done something right. You also have to be willing to accept failure and literally learn from it, because if you don't, it will hinder your company's ability to make any money," says Kys.
Because Edgewater makes both the access points and the chips that go inside them, it faces a range of competitors. For access points, they include Cisco and Aruba, and for the chips, manufacturers like Qualcomm and Broadcom. There are different segments for competitions for the different products Edgewater makes, according to Skafel. Regardless of who it competes with, Edgewater's main focus is solving a need in the market.
Filling the Gap in the Market
The importance of filling a gap in the market is what helps or hinders the company's ability for success. Stuart Tidd is the founder of PC Parts Canada and has years of experience in the computer software and Wi-Fi industry. He believes there is no better time to introduce high-density Wi-Fi products as the world becomes more wireless.
"In modern cities, almost 100 per cent of the people rely on their devices to be connected to the internet. Where there is demand, there must be supply. This is the way of the future and a medium for people to connect with one another," says Tidd.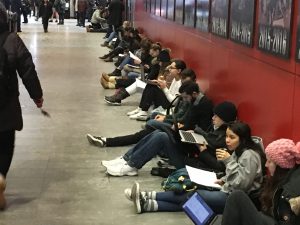 As people rely on wireless devices to communicate, there is more of a need now than ever in the industry for high-density access points. In many high-traffic locations, including schools, stadiums and public areas, single-channel access points are unreliable and create a density problem. The CableLabs accelerator program has helped Edgewater examine the theory and math behind its solution to use multi-channel access points, making Wi-Fi accessible and reliable in high-traffic areas.
In addition to reaching its target market, Edgewater is expanding its sales to other continents. According to Skafel, the company has great success in Europe due to obvious density problems there. Edgewater finances show a foreign exchange loss of $65,397 for the three months ending July 31, 2017, related to the European expansion of the company.
Skafel says this year was a huge milestone for Edgewater and he foresees more success in the future.
"CableLabs has helped us tremendously. We went from working with no cable operators to now being engaged with eight. It takes time to get into the Tier One operators so we're continuing to be coached, but it's been a really exciting year for us."