Jonathan Bradshaw is on the hunt for a condo.
Bradshaw has just qualified for a $203,000 mortgage, a sum he says will get him "a box" in the competitive Toronto housing market. The amount may not seem that noteworthy but what is remarkable is that Bradshaw, who graduated from Carleton University with a bachelor's degree only last year, has been able to build enough credit to get the loan while most of his cohort are digging themselves out of debt.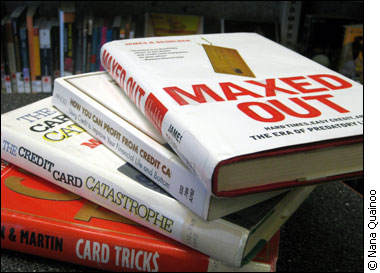 There is lots of advice available to help deal with debt. Bradshaw has also bypassed one of the other major obstacles young people face when they want to buy a home – his parents are gifting him the five per cent down payment (about $10,000) he needs to buy the condo – maybe not of his dreams but one that he can afford.
To be sure, Bradshaw isn't your average recent grad, he majored in economics with a minor in business.  He currently works at a Scotiabank in downtown Toronto where he is responsible for approving mortgages and loans.
Bradshaw says you don't need a business or economics degree or generous parents to be able to build up enough credit to qualify for a mortgage, car loan or line of credit. You just have to be smart with your money, a  view  shared by some of Ottawa's leading money managers.
Credit is simply money that you can borrow. The banks use your credit rating, a mathematical formula that measures the state of your finances, to determine if they should grant you a loan and how much they should give you.
When looking at candidates for a mortgage or loan a bank usually looks at the person's credit history, current income and debts and their down payment. So for recent graduates who may not have a large salary and are likely saddled with student loans, good credit is key.
GETTING A CREDIT CARD TO GET A RATING
For many the first step to building good credit is getting a credit card. Bradshaw got his as soon as he turned 18 and had his father co-sign on the card. Whether a card is co-signed by a parent or not does not matter.  It still has the benefits of showing that you can manage credit – if you pay your bill on time that is.
Ian Lee, MBA director for the Sprott School of Business at Carleton and who also worked as a bank manager in the 1970s as well as a credit and mortgage approval agent, recommends that students get "one card and one card only, not two, not three, not four." He adds that that one card should be a MasterCard or Visa because they are accepted everywhere. Furthermore, the card should only be used as a tool to buy products and services that can easily be paid off to build credit.
"Credit should never be used to finance a lifestyle," he cautions. Lee said students should also stay away from department store cards "like the plague" because they come with high interests rates that are sometimes double the regular credit card rate of 15 per cent.
Ryan Cliffe, a trustee with P.F. Markham and Associates, Inc. knows this refrain too well. He says while his company deals with major debts and bankruptcies which most undergrads have not accumulated yet, the seeds of future credit management problems are usually sown with the first credit card.
Although students can build great credit within a relatively short time (about three years), by paying their credit card balances off each month, many do not. In a 2008 study by the Financial Consumer Agency of Canada, six in 10 Canadians between the ages of 18 and 29 reported they had some debt and credit card debt ranked highest among those in debt.
CARD COMPANIES VS UNSUSPECTING STUDENTS
Joel Grisé, a credit counselling coordinator with K3C Credit Counselling Ottawa, a non-profit organization that provides help to those having financial difficulty, puts some of the blame for the high debt levels on credit card companies who he says thrust credit cards into the hands of unsuspecting frosh. Cliffe, however, says the consumer is wholly responsible for their debt.
More and more though, credit card companies and banks are taking a role in educating the public about how to maintain good credit. Bradshaw says Scotiabank does talks in high schools now in order to  prepare students  to handle credit more effectively once they turn 18. K3C itself receives some of its funding from credit card companies.
Once students  receive their first credit card and have built up a good credit history, after a few years, they can move on to a higher credit limit or bigger loans such as lines of credit. Since one of the factors that affect credit ratings is the ratio of debt to available credit, if a recent grad can handle a higher credit limit, they should ask their banks to raise their limit every once in a while, although they shouldn't overdue this since too many requests for someone's credit history can reduce their score.
In the end, managing credit comes down to good old-fashioned common sense. Allen MacLeod president of D. & A. MacLeod Company Ltd., an Ottawa financial planning corporation says students and recent grads just need to live within their means and budget for their expenses.