University is expensive, no matter how you look at it.
As record high tuition collides with a turbulent economy,  rising student debt is becoming a way of life.
When students and their families crunch these growing  costs, living arrangements top the list of expenses.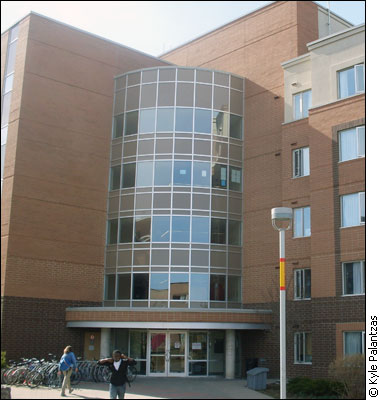 It's a smaller and familiar community in residence.
Should students live off campus or in residence?
The answer can have a deep impact on  their bank accounts.
Being part of Carleton's residence community can cost anywhere from from $8,000 to $10,500, which includes the student's room and board for eight months, a meal plan, the convenience of being on campus and the all-so-memorable university experience.
"Living on campus is a blast, not to mention very beneficial," says current resident Sarah Daly. "But residence is really expensive and easy to live on."
Daly, along with 2,870 other members of the residence community, enjoys the pleasures of waking up on campus just minutes away from class,  not having to cook, the gym and a central transportation hub that connects her home to the rest of the city.
"It's simple," says Wanda Bochert, accommodations services assistant at Carleton University. "You pay for convenience."
But is convenience worth this hefty tab?
Daly, like the majority of students finishing first year, just signed a one-year lease to secure an off-campus house for next year.
She is paying $4,800.00 for the year, which breaks down to a net cost of $400.00 per month plus utilities.
Comparing these figures to her residence fees, which averaged out to $1,000 per month, it does not take a mathematician to figure out she has substantially cut her a major element of her living  costs.
But more factors come into play.
"If you can balance out the cost of rent, the cost of groceries and transportation, the comparison becomes much closer," says Bochert.
According to Bochert, students are notorious for spending as little as possible on groceries, adopting the infamous student diet.
With the price of bus passes going up, students are  spending up to $110 a month on transportation.
Do you really need a table and chairs?
But now that Daly is sheltered, fed and has a means of transportation, she has to take the price tag of furnishing her new pad into consideration.
"It's not just living off campus, but its setting yourself up to live off campus gets expensive," says former residence fellow Ellen Mauro, who spent her entire undergrad living on residence.
Daly must buy a bed, desk, and some furniture and kitchen utensils – items all included in residence.
"It would probably balance itself out in a way. Not having to buy extra furniture, bus passes and groceries can add up," says Mauro.
According to Daly, living  in residence is like living in a bubble where sleeping, eating, studying and socializing happen in the same captive area.
But  there is an opportunity to save.
"I don't think residence is necessarily more expensive," says Mauro. "I know the numbers say it is, but there is less temptation to spend money spontaneously."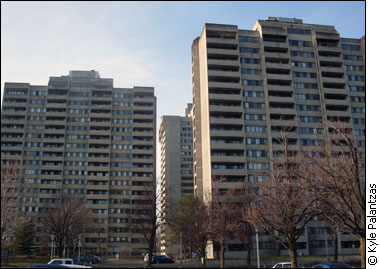 Not like the world outside campus.
If everything is  on site and prepaid, the  that can limit the opportunity for spending extra money.
"It's shocking how much money I spend on little things I used to take for granted living on residence," says Chris Bracnik, who has lived off campus for the last three years. "Cable and internet, eating out and keeping my apartment clean add up."
While every off-campus student has to  pay these  bills, those who choose  universities in Ottawa face higher costs than in other cities.
"Most university cities just don't pay the rent we do here in Ottawa," says Bochert. "Landlords have raised the bar, and people are paying for it."
Looking at other Ontario university cities like Guelph, Kingston, Oshawa and Thunder Bay, rent prices can be as  little as 50 per cent  less than in Ottawa. co
Needless to say, residence fees across the province are very much the same.
"In residence you make those connections that allow you to move off campus. That gives you the roommate, those housemates and those memories," says Bochert. "That is priceless."