In today's digital world, if a company doesn't have a website, it practically doesn't exist. But Bronwyn Hammell, the owner and creative director of Ottawa's Cinnamon Toast New Media, says not every company is ready to take its products into cyberspace.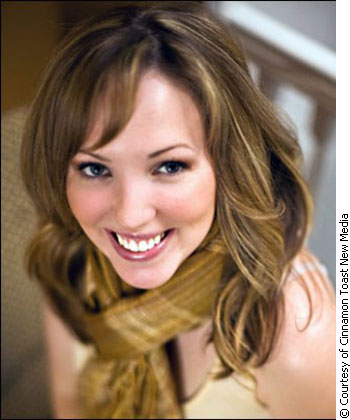 Bronwyn Hammell helps businesses create an online presence.
"Sometimes [potential clients] get really excited and everyone is saying 'you have to have a website' and I agree," says Hammell whose company designs websites. "Businesses need to have a website, but businesses need to have good websites."
Constructing a website can be expensive and time-consuming, which is why Hammell says business owners need to be really dedicated and know their product before they start designing and building a site.
On an initial consultation, Hammell discusses what the client wants in a site and how much they're willing to spend to get it.
"They're looking at upwards of $5,000," she says, though her company sometimes makes simpler sites for $2,000-2,500. "If it's not in the budget, I would tell them that they have to create a web presence perhaps without a website to begin with, using social media."
Building the website is only part of the cost, which is calculated, based on the number of unique pages the site includes. If a client doesn't have the content for the website, Cinnamon Toast New Media will hire professional photographers and writers at an additional cost.
"I always tell people that the quality of their website will directly reflect the quality of their content."
GO FOR A SIMPLE DESIGN
Ottawa jewellery maker Diane Lalonde spent more than a year thinking about and researching a design for her company's website before launching it late last year.
When she's not busy with her day job at a high tech company, Lalonde makes custom jewellery pieces through her small business, Wired & Unwired.
"A lot of people when I was doing shows would say, 'do you have a website? Is there somewhere I can go to see what you do?'" explains Lalonde, "If people didn't ask, I probably would have waited."
At first, Lalonde tried to find a spot online where she could build a site herself, but the simplistic templates for sites weren't what she had envisioned.
"I was sort of stymied because I didn't really know exactly how to put it together. I'm not exactly tech savvy."
That's when she received a flyer for a local design company, by chance, at her day job.
The woman running the company met with Lalonde to go over ideas for the site and came up with an initial estimate of $1,800.
"Businesses need to have a website, but businesses need to have good websites."
"I told her: I'm sorry. I can't afford that."
Eventually Lalonde negotiated some simplifications to the designs and the significantly lower fee of $750. The site doesn't include an online store, but it's custom-made to showcase photos of various design collections and information about the artist.
DO IT YOURSELF
For Julie Laframboise of ConceptArt Glass Studio, creating a website was very important to having a successful business. When she opened her store in Rockland, ON, three years ago, she also created her website.
"My prior job was as a graphic designer and web development, but I did this [website] very basic," Laframboise says. "It takes a lot of time. You have to have the tools to design it and develop it."
Even though she had computer programs Photoshop, Dreamweaver, and web design experience, it wasn't an easy experience for Laframboise.
"Absolutely!" she quickly responded when asked if small businesses should hire someone to build their first site. Cost was a key factor in her decision to do the site on her own.
"It's very expensive to get someone to do your site. You can get the guy who lives across the street to do it for a thousand bucks, but if you want it professionally done, you're looking at $3,000-5,000."
One thing she says is definitely worth the money is buying Pay Per Click advertising, a service that posts text-based advertisements on search engines to increase a site's web traffic.
"I pay $30 a month, which isn't much."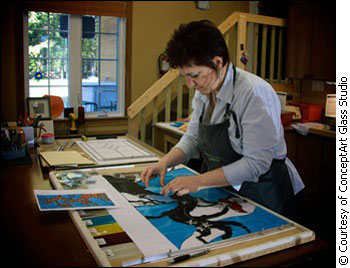 Julie Laframboise works on a piece of stained glass at her studio in Rockland, Ont.
OPTIONS IN E-COIMMERCE
The logistics of mailing stained glass was difficult enough to deter Laframboise from creating an online store for her business.
Entering e-commerce means paying monthly service fees or commissions to websites like PayPal or Shopify which allow customers to pay for items using credit cards.
The best option depends on how much a client plans to sell. For a business selling at least ten different items, Hammell suggests Shopify, a site that provides an online storefront and payment options for a set price as low as $29USD per month (or as high as $699USD per month) and a percentage transaction fee.
If a business is smaller, Hammell sets it up with a PayPal account, which handles credit card transactions, but doesn't provide a storefront.
"Some people that have a few products get excited," explains Hammell, "and unfortunately they don't realize that to actually run the website because you'll end up spending more money on the site than the product."
If Lalonde sets up an online store, she thinks she'll take a different route.
"I probably would look at Etsy because that is very popular," says Lalonde, pointing out a website that allows artisans to set up a free storefront while paying fees to post items and complete transactions.
"It's really popular with a lot of artisans. They just think it's great – and it works!"