When Ottawa high-tech company DragonWave began expanding into India two years ago, it was just one of many Canadian companies hoping to enter the country and set up shop.
India, with its population of about 1.2 billion people, has become a mecca for businesses looking to tap into the markets of a rapidly developing country that shows no signs of slowing down.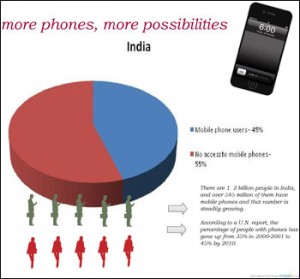 Engineering and design companies, investors from the IT sector, and commodity exporters are just some examples of Canadian businesses that have been going to India, said Devesh Shah, the former chair of the Ottawa chapter of the Indo-Canada Chamber of Commerce.
But DragonWave started eyeing India for a different kind of niche – one that has only come into play in the last few years. The company provides wireless data storage, something that could be essential for the tablet computers and smartphones that are now flooding India's markets.
"I understand in India, there's a very high demand in streaming video. It's not just data, it's also bandwidth for streaming video and Bollywood downloads," said John Lawlor, DragonWave's vice-president of investor relations. "So then the beautiful thing is the demand driver is the end customer."
The median age of India's population is about 26, so Lawlor figures there won't be any slowdown in demand for devices that eat up data services. In fact, a U.N. report shows that in 2010, there were already about 545 million mobile subscribers in India, which is almost half of the country's population.
Lawlor said one of the key selling points in India's wireless markets is that it is moving straight from 2G to 4G networks, using wireless storage instead of fibre optic cables to store its data.  He added that the company is well-placed to help build the country's 4G networks.
Endless markets?
DragonWave is just one of many local businesses who are optimistic about the potential market in India. The population's eagerness for smartphones could spell big profits for the wireless industry.
Last year, a small Montreal startup called DataWind made headlines when it won a contract, commissioned by the Indian government, to make the cheapest tablet possible so that more people could access the Internet.
And there is wider political support for the shift into India as well, as the Canadian government is currently pursuing a free-trade agreement with that country.
Marvin Hough, one of the directors of the Canada-India Business Council, said all of these signs further entrench India as a place to invest.
He is also one of the organizers of the Telfer India Forum, which aims to help businesspeople prepare to work in that country. The forum, which will be held in March, is part of the Telfer School of Management at the University of Ottawa.
As a former trade commissioner to India about 20 years ago, Hough said he believes Canadian companies can't just touch down in India and expect to turn profits without a solid business plan.
"We have different modules on understanding business culture, how to go about exporting, how to find agents, what are the rules for investment, legal and contracting issues that might come up, financing – so we give [business executives] a chance to absorb and prepare a draft of a business plan before they go over there," he said.
Forming alliances
Shah added that Canadian businesses can also prepare themselves by partnering with Indian companies.
"It's extremely helpful if you have solid contacts and someone who can understand the Indian business environment and the cultural environment, how to deal with people in India," he said. "A company with access to those skill sets, certainly their entry will be much easier."
So when DragonWave first expanded into India, Lawlor said it was careful to find an Indian company that would support a joint venture. It settled on Himachal Futuristic Communications Limited, which has about 25 years' experience in India.
"It was an exceedingly smart decision not to go it alone," said Lawlor. And he said despite the difficulties of getting into India, the payoff makes it all worth it.
"The arithmetic is simple, but the numbers get very large," he said, adding there's about $1 billion in market potential in just starting a 4G network. "It's serving a population of a billion people. It's massive."