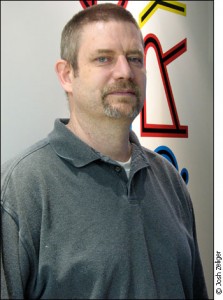 Ian Graham didn't have any tenants when he began renting two floors of office space at 246 Queen Street in early 2008. Graham gave up his job as a consultant to open the Code Factory, a start-up incubator that sublets office space to young software companies and helps them grow.
"I look back on it now and think how could I have done that? But I was so consumed with the idea of making it happen that I didn't think as much about the risks," said Graham, who spent 15 years working for large telecommunications companies like Newbridge Networks and Alcatel.
After marketing the space for seven months, almost exclusively through word of mouth and his blog, a few start-ups and small businesses moved in.
Currently about 50 people work at the Code Factory and some of the technology start-ups have graduated and moved on to larger offices elsewhere like MediaStyle, a communications firm.
"My goal is to increase the success of a start-up by 75 per cent," said the 50-year old, who graduated from University of Ottawa's MBA program in 2002. "I want to find a way to make these companies more successful."
The Code Factory  offers different sized spaces that allow companies to expand as they develop.
On the first floor, young programmers pay $6 per hour sharing an open concept communal space with desks and leather swivel chairs.
There are desk offices for more stable start-ups and bigger businesses, those with three to 10 people, rent offices upstairs that are the size of large bedrooms with old hardwood floors and pale walls.
Board rooms are also available and where regular seminars and workshops are held such as Students and Start-ups, a program that matches early businesses with eager students.
The program has lead to 24 jobs for students.
The Code Factory's clubs meet monthly bringing together Android and Apple developers to share ideas and collaborate.
The result is a network of entrepreneurs with different skills, working closely together in front of glowing laptops.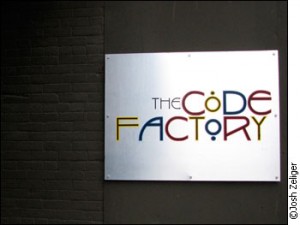 The Modern Salon
Michael Roberts and David Megginson became business partners after meeting at the Code Factory.
"David was going to some of the sessions, but I didn't know what he did. I needed some help developing an XML standard [and Graham told me he was an XML expert]. He had even written two books on XML," said Roberts.
Megginson worked as a subcontractor for Roberts' company Groupsia in 2010.
The next year they formed Acclar to create open source technology for organizations in international development. Currently they are negotiating the first contract for Acclar.
"The strength of the Code Factory is that Ian is somebody that is very approachable and goes out of his way to help your business by connecting you to other people." said Roberts.
He remembers Graham organizing lunches where entrepreneurs would talk about their struggles.
"I found out who I could get as an accountant [and lawyer], and I found out I had to keep my bookkeeper separate from my accountant," he said.
Roberts moved to Montreal last year and said he has worked in other incubators.
"Some of those co-working spaces can be problematic if those companies are also investors. It means not as much of a creative experience for those not being focused on," he said.
In fact, the Code Factory isn't the norm when it comes to incubators in Canada, according to Michael Donahue, vice-chair of the Canadian Association of Business Incubation.
"The majority are established by investors who are working with, or are prepared to make some investment in the business while providing business advisory support," said Donahue.
Graham's business model is more altruistic – offering resources to start-ups as part of their rent. Without taking profits or a stake in the start-ups, Graham generates revenue through the margin between what he charges the start-ups and his lease.
"There is not much money in subletting," Graham said. "But every year gets better and this will be my first really good year."