It should be easy to walk into a restaurant, flip through a menu and enjoy a quiet meal.
Bronson Avenue businesses between Catherine Street and Gladstone Avenue can finally offer this experience after eight months of construction ended in November as part of the city's two-year, $30-million project to replace 130-year-old water and sewer pipes.
And once again, business is booming.
"This January was off the charts," says Amanda Lunan, owner and founder of Auntie Loo's Treats on Bronson Avenue at Flora Street. "It was an incredibly busy month for us and people have been coming back in droves."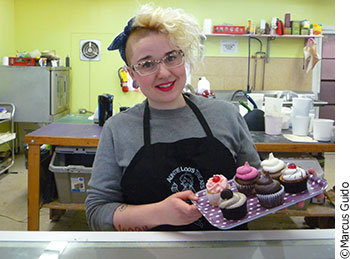 Businesses were concerned clientele wouldn't return, but some customers say they've gone to restaurants such as Harvey's and Jak's Kitchen more often since construction ended.
"It's just been easier to get around on Bronson," says Chris Wright, 22, who lives on nearby Bell Street South. "It was too hard to even walk for food and now its ridiculously simple being able to drive."
Though Auntie Loo's isn't a sit-down restaurant and partly profits by selling cakes and cupcakes to other businesses, Lunan says there were periods in the summer when shoppers couldn't even enter her bakery.
"I saw the lowest levels of business in July and August. There was a lot going on in front of my store and there was a big pit dug in front of the entrance for a while," she says.
But there were no hard feelings between business owners and the construction company, Lunan says. In fact, she says construction workers directed drivers around blocked areas of Bronson Avenue to reach stores.
Lunan also held a party in October to celebrate Auntie Loo's third birthday that attracted about 500 customers, including construction workers, but says her business didn't see any growth from its second year because of the construction period.
TAKING A HIT
Though she says she didn't suffer a loss, some restaurants weren't so lucky.
"When they closed the Bronson and Gladstone intersection, business dropped in half immediately," says Jeff Stewart, owner of Pressed Café on Gladstone Avenue. "It was definitely a really bad summer to start things off."
This sandwich shop opened in November 2011, just four months before construction started.
It was hard to attract potential patrons when people couldn't drive to the restaurant and weren't willing to navigate through pylons and holes on dirt-coated Bronson Avenue by foot, Stewart says.
RECOVERY PERIOD
Like Auntie Loo's, business at Pressed has picked up since construction ended and has had a profitable start to 2013.
Lunan and Stewart say they not only credit the end of construction for a successful start to the new year compared with 2012, but simply being around for longer.
"This January was much stronger than the last one," Stewart says. "A lot of that has to do with being established for a bit longer, but I've definitely benefitted from people getting around more easily."
Attracting shoppers was difficult for any retail business during construction, says Jennifer Heagle, co-owner of the Red Apron on Gladstone Avenue at Percy Street.
"When you're relying on people walking in your door every day to buy what you're selling, it's certainly a big deterrent when people can't get to you," the restaurateur says.
The Red Apron's delivery service still turned a profit, Heagle says. She also saw regular clientele about four times a week, as she says she posted maps on the restaurant's website showing detours of construction.
Heagle may not have seen many new faces in her restaurant, but says she was lucky construction was busiest during July and August.
WAITING FOR FALL
Since the summer months are normally slow for her store, she says she didn't feel many negative effects from the construction.
Though she says business typically picks up in September, the post-summer boom came a month later this year.
"What we really noticed was once the through traffic was opened up across Bronson, business instantly picked up," she says.
But construction isn't over on northern parts of the avenue.
The City of Ottawa intends to finish sections around Laurier Avenue West by September. There are also minor plans to expand sidewalks and build crosswalks at the Gladstone Avenue intersection next month.
Fortunately for Lunan, construction workers wielding jackhammers and other heavy machinery won't return to block access to Auntie Loo's. She also says she couldn't be happier with the return of her patrons.
"Business has been fabulous since the end of construction and it's going to keep growing," she says. "The Ottawa community has been really, really supportive. We have beautiful, incredible, loyal clientele."