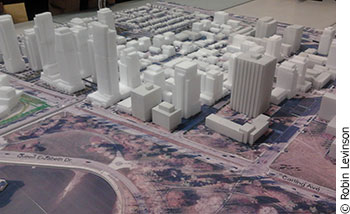 Miniature models of high-rise condominiums covered a table-top diorama of Little Italy at the city's unveiling of its plans for the neighbourhood.
But one building was missing from the blueprint: a grocery store.
"This is a twenty year plan… and there's no grocery store?" said a bewildered Joe Cotroneo, co-chair of the Preston Street business improvement association.
As the city moved ahead with its plans to intensify the Carling-Bayview district at a public meeting last month, residents continued to shake their fists at the neighbourhood's rapidly rising skyline.
"It's quite clear we have a very united community on this plan," said Diane Holmes, city councillor for Somerset Ward.
CONDO INVASION OPPONENTS
But giving the community its much-needed grocery store could help mollify residents who have staunchly objected to the neighbourhood's condo invasion, Cotroneo said.
Although there are currently lots of pubs, restaurants and small specialty food shops along Preston Street, the area hasn't had a full-sized grocery store in years.
"Right now you can't buy a quart of milk on Preston Street past six o'clock," Cotroneo said.
Although more condos mean more customers for Preston Street businesses, he said he's worried the community could be transformed into a condo wasteland where high-rise dwellers travel from their penthouse to their garage—never coming into contact with the street.
"You're gonna have all these people that are in the neighbourhood leave the neighbourhood to buy groceries," he said.
COMMERCIAL SPACE IS KEY
Ben Gianni, who teaches urban design at Carleton University, said commercial space is vital in building a successful condominium. Although he did not attend the public meeting, he has worked with the Preston Street business improvement association in the past.
Ideally, he said, one of the many condos planned for the neighbourhood would incorporate a grocery store into the building's ground floor.
"It's the design of the streetscape, the public realm," he said. "That's really going to determine the long-term effects of these things, the quality of life."
"That's what we're trying to make it, a livable community," Cotroneo said.
Holmes, agrees. "A big food store would be helpful," she said.
Bringing a big commercial retailer like a supermarket would not only benefit residents, but the city as well. Holmes said property taxes for commercial space are much higher than for residential space.
RUMOURED GROCERY STORE
Rumours have circled for years about a possible location for a Little Italy grocery store. But so far, no company has stepped up to the task.
"I'm not sure that any of the developers are interested," Holmes said.
The problem lies with the limited lot space in the area.
SOHO Italia, the 29-storey condo developed by Mastercraft Starwood, is moving into a lot just over 1100 square metres at the corner of Preston and Carling.
But supermarkets like Loblaws want tens of thousands of square metres or space.
"Most grocery stores these days want a big footprint," she said.
"There's such a remarkable difference between what the development community is proposing and what the city is actually envisioning," Gianni said.
Still, a supermarket on a small condo property isn't impossible. Sobeys, a Nova Scotia chain of grocery stores, is moving into the Claridge condo at 91 Nepean. Occupying just 380 square metres, the project is still under construction.
Without a grocery store in the official design, Cotroneo is afraid they'll never see it happen.
"You have to be looking down the road forty, fifty years from now," he said.