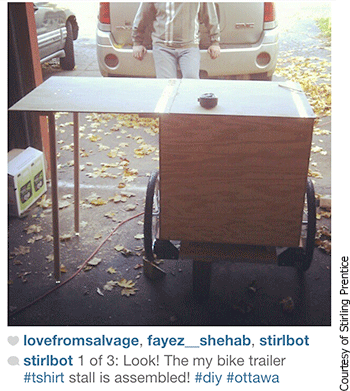 Stirling Prentice built a bike trailer to turn his T-shirt business into a mobile pop-up shop.
An Ottawa artist and screen printer is taking one of the hottest retail trends on the road with his new mobile pop-up shop.
Businesses around Canada and across the globe have been using pop-up shops to hawk their wares and attract attention for years. With a traditional pop-up shop, a retailer moves into a vacant space for a short period of time and shoppers come a-calling when they hear buzz about the temporary venture. Pop-up shops can be a way to draw attention to a new product, while they can give start-ups a place to test the waters for their wares.
But Stirling Prentice, the creative mind behind Winged Beast Outfitters, is putting a spin on that idea, taking his T-shirts and art to the street.
"I wanted to build something that was custom made to do what I do," Prentice says.
POP-UP PRESENCE
Last fall he started work on a pop-up kiosk, building a large wooden storage box onto a bike chassis. Once the snow melts, he'll load his racks and product into the creation, and peddle to art and craft shows around town. When he arrives, the trailer folds out into a four-foot by two-foot display table.
The kiosk will simplify Prentice's business and reduce his environmental impact, but it also gave him the opportunity to work in a new medium.
"Generally I'm working with two-dimensional things in an environment where there's take-backs and erasers and undo," Prentice explains. "But building a thing like the trailer is kind of exciting. You just kind of have to roll with it and see what happens."
This summer, Winged Beast Outfitters will be rolling to outdoor shows around Ottawa. Prentice is also reaching out to local businesses, hoping to strike arrangements where he can set up his kiosk in front of their stores.
BY-LAW BOTHERS
But bylaws are an issue Prentice has to navigate that traditional pop-up stores rarely worry about.
"The law is vague," he says. "It's very clear if you're a food vendor. It's not so clear if you're an artist."
Last fall, the City of Ottawa approved a new street food vending program after criticism over a lack of food trucks in the region. Now 18 new mobile food vendors have been approved to hit the city streets in May.
The city also requires "itinerant sellers" to have a business license, though it's unclear whether pop-up shops fall into that category.
There is a similarity, however, between Prentice's project and stationary pop-up shops: shoppers remember retailers who try something unique.
Michael Macintyre, director of online marketing for Indochino, says pop-up shops have given the online custom suit shop a great way to market itself.
"The pop-up shops give us a showroom platform to invite and engage with journalists and influencers," Macintyre explains. "Previously being a pure play online company, it was difficult to have journalists interact the brand."
ATTRACTING NEW CUSTOMERS
A physical shopping place also allows people to see and touch their suits, as locals did when Indochino brought their pop-up shop to Slater Street in April.
"One of the goals of the Traveling Tailor events is to get customers who might not be initially comfortable buying online comfortable with the brand and the products, with the goal to get them to repeat purchases online," Macintyre explains.
Indochino has also taken the Traveling Tailor pop-up shops to Vancouver, Calgary, Chicago, San Francisco and New York. The visits have been so successful that plans are currently underway to pop-up in several locations along the east coast of the United States.
Prentice isn't planning on taking his bike kiosk that far, but he is thinking about events in Toronto and Hamilton.
"Ironically I'll have to load it into a trailer to take it down there and set it up," he notes.
And everywhere he goes, people will see "Winged Beast Outfitters" painted on the trailer's side.
Prentice says he thinks the mobile pop-up shop will give his quirky, whimsical T-shirts (including a dinosaur riding a whale) an interesting hook in a market full of clothes splashed with Chuck Norris slogans.
"I wanted to have a way to sort of express my creative vision in a way that wasn't just: Table. Rack. Sell," he says. "I really wanted to rethink that."