Golf has come a long way from knocking feathered balls around a farm field with a wooden stick to a multi-billion dollar industry.
For many, it is just a game or even a luxury – something fun to do with friends or loved ones on a sunny afternoon – but it also seems to defy recessions.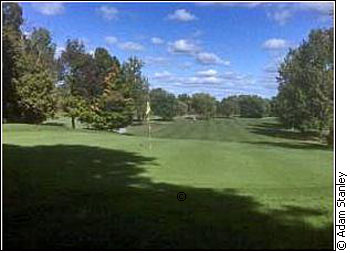 Hoping for full fairways in 2010
"I think we've been hit a lot less than people thought we were with the doom and gloom in the U.S." said suburban Ottawa Manderley on the Green course manager Greg Chambers. "I think Ottawa alone did better with the government workers. The job security is there."
Manderley actually had more members and tournaments this past season, as well as an increase in the number of weddings at its facility.
The increase in membership and out
side events was echoed by Metcalfe Golf and Country Club's manager Rob Howell. He said that "we had the most weddings we've ever had" despite a slight drop in tournaments.
Both Howell and Chambers explained that it was not the economy that affected them the most this year, it was the weather.
"The weather was our biggest challenge first and foremost," said Howell. "We got going early in April, the weather wasn't great in May, and then it was bad for a long while."
"We got hit with 23 days of rain in July and that's what killed us," said Chambers.
For example, according to an August 2009 study done for the National Allied Golf Association, golf accounts for approximately nine percent of Canada's Gross Domestic Product (GDP), about $11.3 billion.
The same study reports that Canadians also spend $13.1 billion annually on all-things surrounding the game.
Although golfers were ready to play during the recession, pro shop sales stayed flat across the board.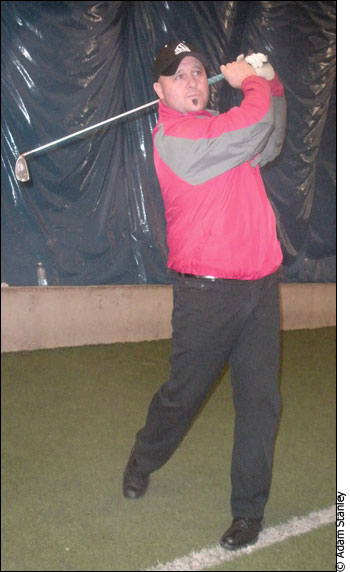 Marc Levac warms up for an early spring.
Peter Grant, a sales representative for south-Western Ontario with TaylorMade Golf said that despite that dip in sales at pro shops, people purchased golf clubs  mostly through stores  such as Golf Town.
"Across the board the golf pros were being very cautious on their buying last year, and that has continued into 2010," explained Grant.
"TaylorMade had a very good year in hard goods sales in 2009 surprisingly. We were one of the only companies to show growth in sales. It seems as though people were treating themselves to purchase new golf clubs."
Where the public courses such as Manderley or Metcalfe saw an increase in nearly everything, the same can't be said for the private courses in the region.
Carleton Golf and Yacht club suffered a robbery of  more than $30,000 worth of high-end golf equipment from the pro shop at the beginning of the season which put them behind the 8-ball. Combine that with the poor weather and the economic situation, many were not prepared to pay the annual dues that come with joining a private club.
The dues for private clubs range from $5000 to over $100,000 which is a whole different entity than playing at a public course.
Greg Richardson, the manager at Carleton, responded by focusing on different demographics of golfers – mostly those from 27 to 39 — who Richardson says are having children later and may not be as inclined to join a private course.
The initiatives were "certainly economy related but we had to be a little bit more creative in order to get the members we did and we were successful with some of those programs," said Richardson, especially those that focused on the aforementioned demographic.
"Where we were down was our high-profit areas like weddings and tournaments."
Despite the differences between public and private courses, they seemed to have similar goals for 2010.
Whether it is a full-time member or a weekend hacker, the managers recognize that keeping customers happy is priority number one.
"It's five times more expensive to get new business than to keep your existing business," explained Chambers."The best thing I can do is have 144 people after a tournament go away raving about the time they had, and guaranteed they're going to tell people about it."