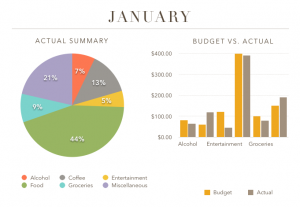 It only makes sense that the generation raised by the Internet would turn to the web for advice on managing their lives as adults.
But do online tools for managing income, creating budgets, and monitoring expenses really help keep your life on track?
The short answer is "yes," according to TD Bank Group district vice-president Alfonso Movilla.
I asked him what I, as a young, soon-to-be university grad could do to set myself up for a better future.
I've already learned how to create and follow a budget on my own, but I'm not about to turn down a helping hand.
Movilla, who used to work in the lending department for a bank, says he spent many years teaching university students the importance of managing their finances.
In his time working with students, he says he saw many who had never learned how to manage their expenses or pay bills, which became a problem when they lived on their own. I can second that.
According to TD Canada Trust research numbers, Movilla says 31 per cent of undergraduates surveyed by the bank wished they had used their credit cards more responsibly at school.
Another 43 per cent said they wished they hadn't spent as much on expenses like drinking, coffee, and nights out. He says 38 per cent of the students surveyed said they wished they had stuck to a budget through their years in school.
Movilla says money troubles like negative balances, multiple overdrafts, or a poor credit history can affect everything from a person's ability to open an account, to big decisions like buying a car or house.
"Having a good cash-flow management process and budgeting enables you to save," Movilla says. "There's a lot of benefit as you start to go through this exercise of building a budget for yourself."
While Movilla suggests going to a financial adviser to begin with, he says it's getting easier to figure out the economics of your life on your own.
And he's right. It took me about an hour to figure out how to set up a budget and track my expenses using Numbers on my MacBook.
With the available tools these days, Movilla says there's no reason students can't start managing their own budgets early and avoid facing credit issues later.
"Banks or other companies that are in the business field understand that offering those tools helps the customer start managing their affairs a little bit better, and it's just part of the advice we provide," Movilla says.
Even third-party companies are putting out applications that give the customer everything they need to create a budget.
Mint.com is an online that taps into users' bank accounts, creates a budget based on income, and sorts all their expenses into appropriate categories.
Programs like Mint, including similar applications provided by most banks, can break down a customer's finances into simple graphs to show them where their money's going.
"What I think has the most impact is when at the end of the month you look at the bottom of those budget sheets, and you see there's a surplus or a negative amount," Movilla says.
The graph above is a visual breakdown of my monthly expenses, which I got after a month of tracking every bit of income and every expense. To say it was an eye-opening experience would be an understatement.
Movilla explains that putting in the small amount of work to create a budget early on can lead to a much better understanding of finances once real life comes around.
"From there, it enables you to build those good habits, and say 'hey, maybe I'm gonna limit the number of times I go out for dinner,' or whatever works for you."
Long story short, Movilla says even something as small as tracking your expenses can be a step in the right direction with money management, and I'm inclined to agree.