On a day in mid-December, someone walked into The Beer Store with a load of empty returnables, unaware their everyday haul held something remarkable: the one-billionth bottle.
With 775 redemption facilities across the province, it could have happened anywhere or to anyone.
It could well have been Lorenzo Hebert, 52, of Ottawa.  He's been collecting empty beer bottles off Ottawa's streets for close to 20 years, rooting through blue bins for bottles and returning them to The Beer Store for meagre pocket change.  Since the start of the Ontario Deposit Return Program in 2007, Hebert can return larger wine and liquor bottles from the LCBO for 10- or 20-cent deposits.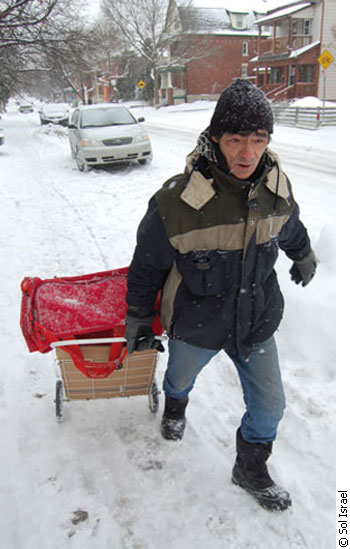 The start of another work day.
"Things have been taking off pretty good," said Hebert, who estimates he supplements his disability insurance with $100 a week earned through bottle picking. Hebert usually wakes up early, searching the area of Centretown west of Bank Street for bottles.
The bottle return program, better known as "Bag it Back," sought to reduce landfill waste from alcohol containers of all sizes by concentrating the returns process through The Beer Store's existing collection operation. At the same time, by introducing the more lucrative 20-cent refunds, the province transformed the industry of bottle picking from cottage to cutthroat.
More competition
Hebert has noticed the rise in competition. Just last week, he said, he was jumped for his bottles near Bank Street.  They were crack cocaine addicts, Hebert said, "jonesing for some money to get their fix."
"I don't go out at night to collect empties anymore," Hebert added. "It's getting really fierce out there now."
Celebrating the recent billion-bottle milestone, The Beer Store president Ted Moroz attributed the recycling program's high recovery rates to enthusiastic Ontario consumers.  However, some Ontarians seem happy to forgo their deposits, letting others return their bottles for them.
Anne, one of Hebert's regular customers, walks up to greet him. She used to return her empty wine and liquor bottles on principle ("I'm giving 20 cents to the government? No way!") but now she lets Hebert take them.
After Hebert returns his bottles to The Beer Store, he doesn't have to go far to make his first purchase of the day.
"It helps me get my fix for the day," he explained. "I'll get my couple beers and whatever else I can get for the house."
Fighting it out
The Bag it Back program has also changed the view from the other side of The Beer Store's counters. Speaking anonymously for fear of losing her job, one Ottawa-area employee said she had witnessed violence between bottle pickers on multiple occasions.
"They fight on the streets to get their bottles."
She added that the higher rewards for bottles brought in a new breed of bottle pickers – those who don't necessarily need the money.
"They come in here and pull out their wallets, and they have lots of cash – so it's not like they're desperate to buy booze," said the employee. "People that would never touch garbage before are now digging through peoples' bins."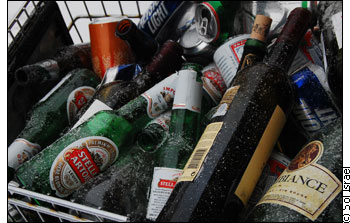 Dollars and cents for some.
Still, "traditional" bottle pickers remain highly visible across Ottawa. Max, who declined to give his last name, waited outside The Beer Store on Somerset Street in Ottawa on a blisteringly cold Tuesday morning. He has been collecting bottles for three years, and estimates he makes $200 a week.
The Beer Store did not open until 10, but Max had been out since 5:30 that morning. The -28 C weather didn't bother him, either – he used to work in Fort McMurray, Alberta.
Max said that he would stop collecting bottles if he got a chance to go back to Alberta and be with his family and children.
"I'll probably go back this summer," said Max, smoking a half-crushed cigarette butt he had pulled out of a sandwich bag. "I'm getting tired of doing this."