Companionship, cuddles and unconditional love: cats and dogs provide many fuzzy returns for their owners, but money isn't one of them.
Keeping pets fed can be an expensive proposition, especially if you're interested in providing a more wholesome diet than table scraps.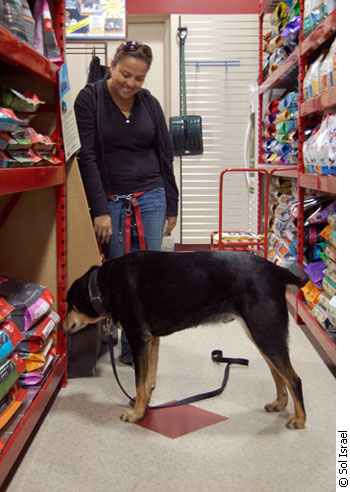 Global Pet Foods owner Karla Briones helps a customer make an informed decision.
Karla Briones owns two Global Pet Foods stores, one in Kanata and one in Hintonburg, and offers a counterintuitive recommendation for keeping down costs. She tells pet owners they'll save by spending more on premium dog food.
"Don't buy grocery store food, because in the long run that's going to cost you more," says Briones.
Most big-brand commercial pet food is loaded with corn, by-products, and processed food, Briones explains. A sustained diet of bad food leads to pet allergies, shedding, and infections, which means expensive trips to the veterinarian.
Briones recommends that pet owners scan the first four or five ingredients on food packaging, and, much like with our own groceries, stay away from chow made with "anything you can't pronounce."
TOP BRANDS TOP PRICES
Still, should you shell out for top-brand foods like Orijen, which loads up its haute kibble with six different types of fresh meat? (A 5.5 pound bag, which might feed an average-sized dog for two weeks, ranges from $21 to $26.)
Not necessarily, Briones says. The Global Pet Foods house brand, Nature's Harvest, offers a 6.6 pound bag of natural food for $16. The Lifetime brand, by Canine Plus, provides a simple diet of chicken meat and oatmeal at $10 for 5.5 pounds. Even though these brands may not be teeming with wild salmon, Briones explains, they're good enough for your dog to stay healthy.
Briones points out that the local dog foods her store sells don't cost much more than well-advertised, mainstream brands. A 7-pound bag of Iams adult dog food costs about $12 at Walmart.
Even so, pets will inevitably get sick, and expenses can skyrocket quickly. Store employee Sam Seguin says he's heard of people paying up to $20,000 on chemotherapy for cancer-stricken dogs.
One good way to keep your pet's healthcare costs manageable is to purchase health insurance.
Even though her father is a veterinarian, Briones insures her Giant Schnauzer Pepe through President's Choice to cover the cost of treatment. Although the deductibles can be steep, says Briones, a $200 deductible is worth it to cover a $900 broken paw.
"You wouldn't buy a car and not have it insured," says Briones. "I have the same philosophy with dogs – why would you go through the trouble of having a dog and not having insurance?"
CANADIANS AND PETS
It's easy to see how owning a pet can add up, even without trips to the vet.
Seguin, a clerk at Global Pet Foods, is a cat guy. He feeds Nero and Tiberias a wet diet for health reasons, which costs him about four dollars a day. That's almost $1,500 a year, well over the $420 nationwide average pet expenditure per household.
According to the 2009 Statistics Canada Spending Patterns report, Yukoners spend the most on their pets – $607 per household per year. Nova Scotians and Albertans spend the next most, while Quebeckers spend the least on pets: only $270 per household.
Like food, insurance, chew toys, and poop bags, the cost of actually obtaining your four-legged friend varies widely.
Purebred dogs can cost thousands of dollars – and even rescued dogs often cost $200 or more. That fee, says Briones, is worth it. It covers the cost of vaccinations, deworming, and often microchipping.
Briones advises potential pet owners to stay away from Kijiji and Craigslist, where puppy mills often hawk their wares. Be especially wary, Briones says, of ads for puppies in Quebec, where lax animal regulation laws have led to questionable breeding practices.
Still, healthy dogs can be found for free; in fact, Briones says, they're all around us.
"If you have a parent or a cousin or someone you know that just doesn't have the time for the dog, just offer to take the dog from them for free."
Seguin offers his suggestion for getting a free pet: He found Nero (and his mother and seven siblings) in a bag on the side of the road.