When Tracy Turnbull bought a house in Little Italy in December 2006, she figured she'd just make a few changes to turn it into a restaurant and open within about six months.
But it took almost two years for the Moonroom wine bar to launch and when it finally did in November 2008, it wasn't nearly as big as she had hoped.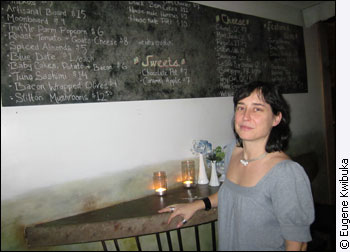 The Moonroom owner Tracy Turnbull in front of her bar's chalk-written menu
While small scale investors may think it's easy to put their business ideas into practice, making changes to properties to host new businesses may be a big challenge.
Turnbull has lots of advice: Entrepreneurs should thoroughly research the city's building rules, make sure they set  aside more capital than they ever thought they'd use, and then never give up in the process of getting building permits from the city.
"It's almost like the city wants you to give up," she said, describing her experience as "frustrating".
Those who want to renovate their houses seek permission from the city after providing detailed plans of changes they would like to make in line with the Ontario Building Code.
Applicants never get enough support from the city in the process, Turnbull says. They instead rely on their abilities to de-code the building code or hire consultants.
"There are not a lot of people to talk to, there is not a lot of guidance," she says. "Instead of trying to help guide you, they (city agents) are trying to stop you."
Turnbull was almost shocked when the city told her she was not allowed to turn her whole house into a restaurant, rather she'd have to keep half of it residential. That is the format for most buildings on Preston Street where she opened her bar.
So, the top floor of her house is rented to tenants. She then proceeded with renovations on the first floor for her restaurant.
It took her 55 days to acquire a permit to repair the house's foundation and do a few other changes to suit her new business needs. After the renovation, she applied for a change of use permit because the previous occupant had used it for retail business.
Turnbull says she wouldn't have figured it all out if she hadn't hired building consultants. She paid them $35,000 for only the service of designing her renovation plan, check her electrical service, plumbing, heating, air conditioning, and the fire regulatory system.
Then the city's inspection team came to check if all of the changes made on the house were in line with the building standards.
Turnbull says the city should do more to support small business ventures. She suggests the municipality set up a liaison office to link building permit applicants with city officials.
She also calls for a campaign to increase the awareness of the building code among city residents.
The wine bar owner is not alone to have found the process to acquire a building permit from the city challenging.  Tony Shahrasebi who would like to open a coffee shop on the intersection of O'Connor and Gloucester says the city has been reviewing his application for renovation of his house for more than twelve months.
"It's very hard, it's tough to start a small business here," he says. "It's huge bureaucracy. It just goes from one department to another department, delays and delays."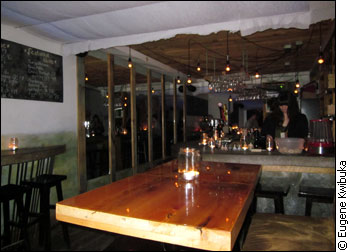 Inside the Moonroom
But the City of Ottawa's director of building code services, Arlene Gregoire, says the city provides enough information about building permits through its website and workshops with community groups. Her advice for challenged small business owners is to always use expert services because of the technical and standard nature of building rules.
"It's very technical; they need to speak to professionals," she says.
Because the Ontario Building Code (OBC) is established by the province and applicable province-wide, Gregoire says it remains under Ontario's Ministry of Municipal Affairs and Housing to develop ways to increase its awareness beyond what the city can do.
"Municipalities provide information as to how to submit applications for permits, usually set out in their building bylaws, as well as description of requirements on their web pages but are not mandated, nor resourced to teach how to build or how to interpret the OBC."
Turnbull sympathizes with other small business developers who deal with this bureaucracy. "Never give up," she said as she sat on a wood stool in her budding bar. "If I had given up maybe at the five or ten times when I felt like it because I was knocking my head against the wall this place wouldn't be here, I wouldn't be employing twelve people, we wouldn't be open."