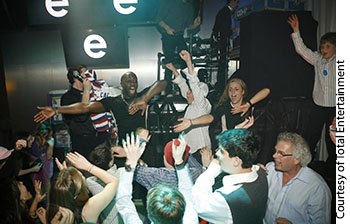 Neon lights flicker and heavy bass echoes from the speakers while teens scream and watch the stage with hungry eyes. They're waiting to be enraptured by a tween pop sensation.
"Drumroll, please…" shouts the DJ into the microphone. "Introducing… the bar mitzvah boy!" The crowd erupts in cheers.
A bar mitzvah is a Jewish religious ceremony marking a boy's transition to manhood. For many parents, it's also the perfect time to throw a party, which can be a costly affair.
"You definitely have to budget ahead of time," says Audrey Pancer, who organized a party for her son a few years ago. "You can do it like a wedding. You have your DJ, your have your photographer and your have your video guy."
Unlike a wedding, bar mitzvah boys have to spend a year learning how to read and speak Hebrew so that they can recite passages from the Torah. An evening party often follows the religious ceremony. These parties are a lucrative business for event planners.
"We throw bar mitzvahs where they spend $150 a head and then there are bar mitzvahs where they spend $1,500 a head," explains Lorne Levitt, manager of Total Entertainment, a Montreal-based event planning company that often travels to Ottawa to throw bar mitzvahs.
COSTLY LOCATIONS
"The cost variable depends on the location. A synagogue requires an investment because it needs a facelift with lights, drapes and a stage," says Levitt. "Then there's the empty halls where you have to bring everything like tables, chairs, and lights. The bill can range from $5,000 to $15,000 in just rental fees."
Weddings usually feature budget lines for rentals, décor, food and photography, but it's the entertainment for children that can make or break a bar mitzvah party.
"I have parents who get a package that includes a DJ, two trained dancers to get the kids on the dance floor and boxes of prizes with flashy necklaces and glow in the dark bracelets," he says.
But that's the bare minimum compared to some of the lavish parties Total has thrown.
The bar mitzvah boy's entrance into the party room marks the beginning of the night. Levitt has organized parties where a boy harnessed to the ceiling, rappelled down doing flips. Another child arrived by helicopter on top of a building while another came into the party room on an all-terrain-vehicle.
"Part of the rules are that there are no rules. People like to get crazy, have fun and go all out."
Going all out could mean hiring hip-hop sensation Flo Rida to perform for $80,000 or K'naan for $35,000.
THE PRICE OF BIEBER
According to Levitt, if parents consider spending beyond their budget, they can hire Justin Bieber to perform for $1.2 million or Beyoncé for $800,000.
"It's the minority who make the party to show off. It's the majority who make the party to celebrate the bar mitzvah," Levitt says. "It's known as a very important moment in a Jewish child's life."
This important moment is often dictated by a family's budget.
"I was on a very tight budget so I didn't have an open bar. I put a bottle of wine on each table and I made my centerpieces," says Pancer. "We held it at a restaurant for 125 people and it cost me roughly $8,000."
Pancer's expenses fall in line with the fees charged by Professional Entertainment Group in Ottawa.
"You can book a DJ, a dancer and lights for around $2,500. But a photographer is not included," says Helen Viva, the manager of Professional Entertainment Group.
IT'S ALL SERVICE
Viva has been working in the Ottawa bar mitzvah event planning industry for 10 years. She says that clients often forget they are receiving a service.
"It's not just about the five to six hours we're at the party," she says. "It's all the work ahead of time that we have to do set up – making a music list of top requests and making sure the night's schedule is in tune with the caterers."
Heather Mechaly is an experienced party planner. Two of her three daughters had a bat mitzvah, but now she's faced with planning a bar mitzvah for the first time.
"I had to pay $1,500 for my son David to start reading from the Torah and now I've got to budget $10,000 for a party in a year from now," she says.
Mechaly says that she's amazed by how much money families spend on what's supposed to be a children's party.
"It's crazy that it's that expensive. I would like to keep my guest list down to 100 people," she says. "But my son wants a party so he is going to get a party."
Oy vey.