Natasha Smit and her husband Aaron knew they wanted to have kids, but what they didn't know was just how much those bundles of joy would cost.
The couple is now in their early thirties with two children. Their son Graydon is four years old and daughter Maëlle is two. Though their combined salary is approximately $130,000 a year and covers the family's needs, Smit said she sometimes misses the financial flexibility they had when they were double-income-no-kids.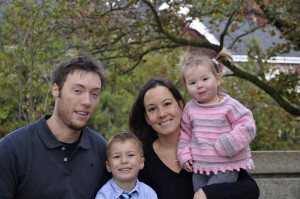 "If I see something I can't just buy it, I have to look at our finances and look at what we have going out and what we have coming in and evaluate it," Smit said. "Whereas previous to having children if I wanted something I bought it."
Smit said she remembers it took the couple about ten months to get pregnant with Graydon and even that wasn't enough time to save or plan out a financial strategy.
"We hadn't really taken into account the fact that when you're on maternity leave you're at 50 per cent of your wage," she said. "We hadn't really saved a ton."
David McGoey, a consultant with Investors Group, said he generally suggests creating a budget when clients ask about financial planning for a child.
"A lot of people have a regular income and everything, they know how much is coming in, they know the big ticket items," he said. "But it's the little miscellaneous things that they don't really know how much they spend a month. They need to know how much they've actually got for income that is disposable income."
He said that one child can cost an additional $7,000 to $12,000 a year over a family's yearly pre-child expenses.
Smit agreed that it's all the little things that add up. She said a big cost was the extra food and clothing for the kids. Now that Graydon's in school, Smit said she makes sure the clothing he wears is neat and new.
One way the couple lightened these expenses was having a diaper party for each child rather than a baby shower. These parties supplied diapers that lasted for about a year. Now diapers cost them about $80 a month.
When Smit was on maternity leave she was only receiving 50 per cent of her salary, so when the year was up she went back to work. At this point the couple put their children in daycare. Though the cost is about $1,400 a month, Smit said it's more financially beneficial to pay the fees and work full time than to quit working and stay home.
Apart from the day-to-day expenses for the kids, Smit said their added expenses included a new vehicle and investment into Registered Education Savings Plans (RESPs). They also have life insurance for their children, which McGoey said is a good option for families that can afford the monthly premium.
"You want your child to outlive you, but in the event that something happens to your child you're going to do everything you can to try to help out with payment," he explained.
He said that insurance allows parent's to cover a child's funeral costs, receive income supplements if they need to take time off of work to care for their child and cover some of the costs associated with the child's illness or treatment.
Ritika Sharma, an insurance representative with TD Insurance, said there's a process to evaluate the best insurance options for parents.
Though the institution doesn't offer insurance for people younger than 18, Sharma said parents need to factor in costs of their children when deciding on their personal life insurance. In this way she sees children more as a liability rather than an asset. The recommendation is to make sure that parents use their insurance to cover themselves if something happens to their children.
For Smit, she said they learned to save and budget after their first child.
"We knew that we wanted a second [child] and we had verbally agreed that we wouldn't start trying again until we had a specific dollar amount in our savings account to be a floater for expenses when we were on maternity leave," she said. "It really relieved a lot of the stress for us to know that we had that savings."