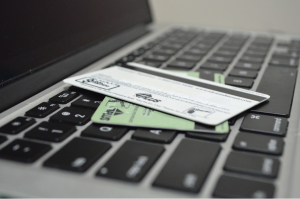 Nicole Singer has heard all about the prevalence and dangers of identity fraud, but she still never expected it to happen to her.
When the 20-year-old returned from a Caribbean vacation at the beginning of January, she was doing her routine credit card statement check when she found an staggering $700 charge from computer company Lenovo.
Singer said she immediately went to TD Bank, which was able to cancel her Visa card, reverse the charges and stop another pending fraudulent charge to her account.
The bank told her there was also an earlier $56 charge that went through to her account from Lenovo – a charge she did not even notice, she said.
A few weeks after the incident, she received an email from online makeup company Lime Crime, warning customers to look out for fraudulent charges because its system was hacked, said Singer.
Singer said she believes this is how her credit card information was stolen in the first place, she'd bought a lipstick from the company in the beginning of December.
"This experience taught me to be more careful," she said. "If you are shopping online, you have to make sure you are shopping at reliable stores, not sketchy ones."
Like Singer, many other Canadians are forced to learn how to protect their personal data the hard way.
In 2013, there were 19,473 victims of identity fraud, totalling about $11 million in losses, according to statistics by the Canadian Anti-Fraud Centre.
One of the most common reasons for identity fraud today is due to technology, such as the Internet and credit card terminals, said Detective Ted Schendera of the OPP's Anti-Rackets branch.
"No matter what technology we use, the suspects in identity theft are always using the current technology or some of the new, experimental technology (to commit crimes) because they seem to have insider information," he said.
Schendera said these criminals are often hard to track down because sometimes it involves a sophisticated crime ring.
"It's not just your card that's compromised, there may be several cards that are compromised," he said. "They (the defrauders) gather the information and sell it to individuals who are able to use it. It could be a sheet of 5,000 or 25,000 names or numbers."
Though there is a slim chance that your online information will be stolen, the impacts of identity fraud are severe, said Tamir Israel, a lawyer at the University of Ottawa's Canadian Internet Policy and Public Clinic.
At an extreme, someone can set up an entire identity in another city and take out a mortgage under your name, he said.
But regardless of the severity of the crime, he said the identity recovery process is time-consuming and effort-intensive, which is why Canadians should take more strides to protect their data.
"It's good to take a step back every once in a while to adopt general practices in your day-to-day life that will mitigate that (identity fraud) from happening," he said.
Here are a few tips Israel suggests.
Use passphrases instead of passwords.
Instead of using a long string of characters, Israel said it is better to use a phrase you can remember.
"Mathematically, a long phrase, like five or six words, is safer than 10 random characters," he said.
Tweak your settings.
People often accept the default settings of smartphone applications, social media platforms, among others. But people should tweak these default settings in order to ensure your private information does not become public, said Israel.
Even if you decide not to change the settings, it is a good idea to know where they are so that you know how your information will be used on these platforms, he said.
Do your research.
If you're unfamiliar with an online shop, just Google it and see what people are saying, said Israel.
"There is often a robust secondary eco-system on the Internet that discusses these sites," he said. "If nobody is mentioning it at all, that may be a sign to be more cautious."
More information on computer security and related issues can be found at Comparitech.