Road closures, clatter from bulldozers, buildup of dust and debris and two years of economic downturn created a tough selling environment for businesses in Ottawa's Little Italy.
The $30 million Preston revitalization project saw lengthy road closures on parts of Preston Street from May to December 2009. During that time, construction crews dug up the road in order to revamp the street's 100-year-old sewer system.
Lori Mellor, executive director of the Preston Street Business Improvement Association says it has been a very difficult two years.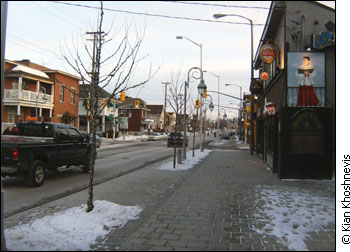 Preston Street is vibrant again after two years of construction.
"It was certainly a tough time down here and the street's business owners were just reeling," she said. "There were reports of a 35 to 50 per cent downturn in sales."
Mellor attributes a slowdown in business more to the construction than to the economic downturn.
"I think initially when the bottom fell out of the economy, everybody halted spending and that certainly impacted us," she said. "But Ottawa residents tend to have more secure jobs and income is pretty much protected, so it was the construction that hurt us more."
Joe Cotroneo, owner of Pub Italia, says his restaurant coped well during the initial stages of the recession, but struggled during construction.
"I think we weathered the storm as far as the recession goes, because we didn't raise our prices and I think we're a very affordable place to eat," he said. "It was the two years of construction that caused the downturn in our business."
Pub Italia lost many of its patrons in the summer of 2008 because dust and debris from construction affected its patio setup.
In 2009, dug-up sidewalks prevented Cotroneo from even having a patio.
"Not having it for an entire summer definitely affected sales," he said. "I had to cut down on my staff as well, because we lost 125 seats just like that."
Businesses take a hit
Cotroneo estimates his restaurant's sales decreased by 30 per cent during construction.
Stoneface Dolly's also saw a downturn in sales.
"It was certainly a tough time down here and the street's business owners were just reeling."
"There was definitely a reduction of business due to the construction," owner Bob Russell said. "We lost our restaurant's walk-in clientele because of the closures and all that was going on in our area, and that contributed to a drop in sales of about 25 per cent."
Russell tried to attract more people by keeping his restaurant open later and having a DJ come in on weekends. But the experiment didn't have the anticipated results.
Slant Printing, on the other hand, wasn't as negatively affected by the construction as restaurants that rely more on a pedestrian, walk-in clientele.
Sheldon Mulligan says his business struggled more because of the recession.
"We do government work and people in the government were being told to watch what they're ordering. So they were doing the photocopying there, instead of coming to us," he said. "The recession is still bothering us because people are still watching their spending."
Mulligan says a couple of timely contracts were critical in keeping his business afloat.
Preston Street on the rebound
With Preston Street now re-opened, and the $30 million revitalization project nearing completion, Little Italy business owners are optimistic that business is heading in the right direction.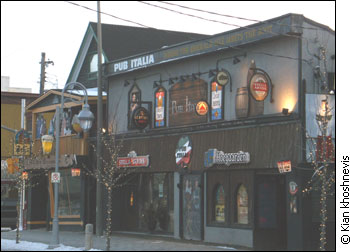 Pub Italia is set to re-open its patio for the 2010 summer season.
Mellor says she has already seen a rise in traffic on the street since it opened in December.
"Now that the street's reopened and it's all cleaned up, business is coming back," she said. "Even in January, which is traditionally a slow time, business owners are reporting a marked increase in customer volumes."
Stoneface Dolly's is almost as busy as it was before construction.
"Since the street opened up again, we've almost reached the level we were at two years ago," Russell said. "We're probably 10 per cent away, which I'm quite happy with."
Cotroneo says he is excited for the re-launch of Little Italy.
"When all the landscaping is done by mid-June, our street is going to look quite impressive," Cotroneo said. "That will automatically generate more business and will attract more of a tourist industry for the street."