For some local businesses, protection from the recession came in the form of small signs posted in their storefront windows.
The signs, which urge passerby to buy locally, adorn most of the stores along Bank Street in Old Ottawa South as part of a shop local campaign.
Many of these stores' owners said the economic slump hasn't affected their businesses much, adding that the campaign kept customers coming through their doors.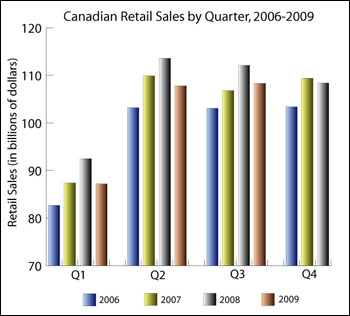 Data are from Statistics Canada's Quarterly Retail Commodity Surveys. Q4 data for 2009 are not yet available.
"On the whole, things stayed the same," said Lyne Burton, co-owner of Wag, a pet food and accessories store. "We had a good year, a decent year."
She explained that she kept a close eye on the store's expenditures and staffing, and managed to see some growth, although it was less than expected.
That her retail business grew at all bucked the trend. Statistics Canada reported that retail sales in the third quarter of 2009 totalled $108.3 billion, down 3.5 per cent from the same quarter a year previous.
The worsening economy is what spurred the creation of Old Ottawa South's shop local campaign, said Burton, who is also one of its founders.
"I think it helped, and it still helps," she said of the campaign. "It was a really good awareness tool because people commented on it."
Jenny Simpson, a manager at the bike shop The Cyclery next door, shared that opinion. She also said the campaign increased customer loyalty.
"There are locals who are willing to wait extra time for something if it means we're going to help them with it," she said.
Some hit harder than others
Simpson said the recession affected The Cyclery in certain sales categories, but that "it didn't have a huge impact."
Sales of mid-range bikes, which fall in the $3,000-$4,000 price range, "hurt a bit," said Simpson.
She said hybrid bicycles, which are a blend of mountain and road bikes popular with commuters, did better.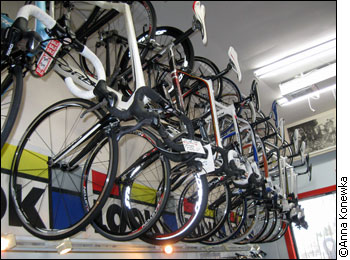 Ready for the start of a new season.
"Hybrid sales, if anything, went up," she said, explaining that people may have turned to these bikes in order to save money on gas and cars.
For the third quarter of 2009, Statistics Canada reported that sales of motor vehicles, parts and services fell 3.4 per cent from the same quarter last year.
That was bad news for Napa Auto Parts, one of the recession's few victims in Old Ottawa South. The store closed its doors because sales weren't high enough and it was no longer profitable, said a Napa representative.
Other businesses fared better.
"We haven't felt the pinch too much, but we've been very aggressive on the publicity front, especially on the radio," said Francois of Chef's Paradise, a commercial and retail kitchen supply store on Bank Street.
Down the street at Kaleidoscope Kids' Books, business has been increasing "steadily," said co-owner Kim Ferguson. She explained that Kaleidoscope is a new store and that most of its growth came as more people found out about it.
At Phase 2, a second-hand clothing store, manager Melissa Schneider said that it was business as usual during the economic downturn.
"It's been pretty consistent," she said. "It hasn't gone up or down at all, it's just been pretty level."
Dollar It owner Tsegaye Dessalegn said the Shop Local campaign has brought supportive customers through his door.
Schneider said the store didn't hold any special sales or use different strategies to combat the recession, but added that the nature of the business helped.
The prices are already low…because it's second-hand," she said. "I don't think that people felt like they had to go somewhere else."
Another store with low prices, Dollar It, had slightly better sales in 2009 than the year previous, said owner Tsegaye Dessalegn.
"Everything was a little better than before," he said. "I didn't do anything different really."
Dessalegn said the shop local campaign, which has no set end date, has helped.
"It has given some focus," he said. "Local people have been coming more and more here, and mention that they want to shop locally."
Burton said this might be because the tough economic times left consumers with less money to spend.
"A lot of people care more now about where they spend their dollar," she said.
And, with the recession technically over, Burton has a positive outlook for 2010.
"This year, there's more growth happening," she said. "This must have something to do with coming out of the recession. It's exciting."