Money-hungry salesman, scammed customers and poor service is the historic reputation of the used car business.
But today, on the heels of an economic recession that has seen Canadians tighten their wallets, t a used car has become a viable choice for more and more consumers.
Joe Barake, the owner of Car Connect, a used-car dealership  in Ottawa's suburban Hunt Club community since 2005, says the industry has always been plagued by unfair stereotypes.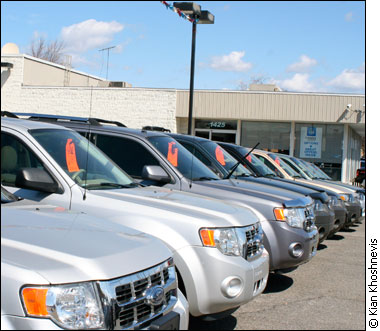 Lined up and ready to go
"There are a few bad apples that spoil the whole bunch," he says.
But Barake says today's economic climate has forced consumers to put stereotypes aside and has made them realize buying used serves as a good alternative to buying new.
Fred Orr, owner of Orr Motors, a used-car dealership in Stittsville, agrees.
"People have turned to used because there are significant savings there," he says. "Ultimately, it all comes down to money and how much you can save."
ADVANTAGES OF USED
Savings are the main advantage of buying a used-car over a new one.
Jason Hanrahan, a 27-year-old from Cole Harbour, Nova Scotia moved to Ottawa in 2006. His new job required a vehicle.
"I was under pressure from work to get a car immediately," says Hanrahan, who works as a survey salesman representative. "My personal financial situation at the time put me in kind of a bind since I didn't have any credit behind me."
Instead of looking for a new car, Hanrahan scoured the used-car market, which is more lenient with customers  who have no built-up credit or bad credit.
"I originally wanted a new car because of the novelty, but I had a monthly budget in mind that I figured I could afford," he says. "I was thinking an SUV, which new, you're looking at around $20,000 at least. The monthly payments just weren't within my budget."
Hanrahan came across a three-year old, 2003 Chevrolet Trailblazer that was perfect for lugging equipment around for his job. He says the SUV's price and the flexible financing options were perfect for his situation.
"I bought it for around $14,500, so I basically saved about five to six thousand," he says. "It was great to be able to choose the financing option that was best for me, which was paying it off on a month-to-month basis."
Barake says financing flexibility is a big advantage of buying used.
PRICE DIFFERENCE
"You can buy it out in cash in one shot, you can finance it by making monthly payments, you can lease with a buy-out at the end of the lease," he says. "The customer has the choice."
It's also well documented that new vehicles depreciate considerably in value in the first year they're driven. Barake says their value drops by 20 to 30 per cent as soon as they're driven off the lot.
Hanrahan says he's always been warned that because of depreciation, a new car is "one of the worst investments to make."
In a used-car, a customer can get a fairly new vehicle (as young as a year old) with a low kilometre reading for considerably less than its brand new counterpart.
For example, Orr Motors sells a used 2009 Nissan Pathfinder in the $26,000 to $32,000 range depending on mileage and features. A brand new  Pathfinder at a Nissan dealership goes for around $40,000.
"It's a fairly significant price difference," Orr says.
SHOPPING FOR A WARRANTY
Another advantage comes in the way of a transferrable factory warranty. If the used-car is within the original  term of its manufacturer's warranty, it extends automatically to the car's new owner without any cost or hassle of paperwork.
"If you buy a car that has a five-year warranty and it's only four years old, you get the balance of that warranty," Barake says "So you're buying a car that has a lot of life left to it, with the factory warranty still on it that gives people reliability and peace of mind."
Vehicles made in the past five years have  in general had fewer problems than vehicles built before 2005
Most vehicles on used-car lots are four-year old lease returns or vehicles used by rental car companies in the six to 18-month-old range. Used-car dealers buy these cars in auctions. In most cases, they are still within the manufacturers warranty term.
Some used-car dealerships, like Car Connect, even offer a service where the prospective buyer can take the used-car to their personal mechanic to get it checked out before any transaction is made.
"It gives them a peace of mind about the car, being able to take it to the mechanic they trust," Barake says. "It allows them to shop with confidence."
Finally, vehicles made in the past five years have  in general had fewer problems than vehicles built before 2005, according to ConsumerReports.com. This means used cars are a much better idea today because they last longer and are much more reliable.
Hanrahan has owned his Trailblazer for four years now with very few problems.
He says he hopes to get a couple of more years of mileage out of the seven-year-old SUV before handing it in for another used-car.
"I've been very happy with it," he says. "I'm probably going to go the used route again in a couple of years; a car two or three years old."