In days gone by, low monthly payments and short contracts made leasing a car an attractive option for people on a budget – but that's changing.
Auto makers struggling to bounce back from weakened sales are giving consumers more reasons to buy instead of lease, including rebates, gift cards and cheap financing options.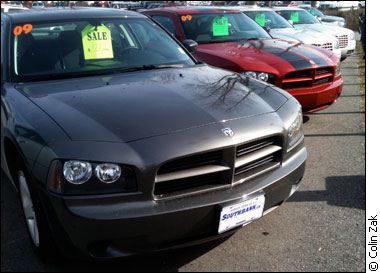 Anyone want a Chrysler or Dodge?
While companies like Toyota and Mazda are offering consumers interest-free loans, Honda's taken a less extreme tactic. Robin Malhotra, sales manager at Ottawa Honda, says Honda is offering 0.9 per cent financing – a far cry from two years ago when rates hovered between 4.9 and 5.9 per cent.
Today, a 2010 Honda Civic Sport will run about $25,000 including taxes. On a five-year term with no money down and 0.9 per cent financing, you can expect $577 in interest charges. This means you will make monthly car payments of about $427.
Four years ago, when financing rates at Honda were five times what they are today, you would face about $3,246 in interest charges, which will mean month payments of $472.
Reduced financing rates like the one Honda is offering have not only made buying a car less expensive but have also helped narrow the cost difference between financing and leasing.
If you do the math, the financing options available today make buying a new car cheaper than leasing one.
With a four-year lease for the same 2010 Honda Civic Sport, someone will pay $315 per month, for a total of $15,000 at the end of term. If someone decides to lease a similar car for a second term, they will have spent $30,240 – about one-and-a-half times the car's original value.
That's money someone signed on to a lease will never see again.
"Under leasing you never have ownership of the vehicles, just ongoing payments all the time. Even though they're attractive payments, you're not building up ownership equity in any fashion," says Tony Faria, co-director of the automotive research centre at the University of Windsor. "When you buy, you ultimately do have ownership."
LEASING OBLIGATIONS
Leases come with a number of obligations, including a regular maintenance schedule and mileage restrictions. For Honda, the annual quota is 24,000 kilometres.  Drivers who go over the quota pay 12 cents per kilometer Drivers planning frequent long road trips with a leased vehicle had better think again.
For a leased 2010 Civic, the driver is also responsible for scratches longer than four inches and dings larger than a quarter at the end of the term.
Most lease agreements do give drivers the option to buy the car at the end of the lease term for it's "residual value" – the car's market value at the end of the lease period. Unfortunately, this price is often more than the car is actually worth.
With carmakers competing so heavily for new buyers, Faria says consumers should opt to finance.
"Generally, consumers are better off buying the vehicles rather than leasing," Faria says. "Over the long haul, consumers are better off getting the best price deal they can, getting the best financing they can and buying vehicles."
Darren Slind, senior director and Canadian automotive practice leader with auto industry research firm J.D. Power and Associates, says leases are becoming less and less popular not only among consumers but manufacturers as well.
According to J.D. Powers' retail transaction database, which tracks North American car sales in real-time, leases only account for 17 per cent of transactions. In the 1990s, that number was between 20 and 30 per cent.
NOT MANY TALKING LEASES
Slind says manufacturers are increasingly reticent to promote leasing.
"It's not so much that consumers don't want to lease, it's more that manufacturers and their captive finance companies are cautious about leasing," Slind says. "Essentially it puts a lot of risk in the hands of the manufacturers, mostly around residual values."
While car companies aren't cutting prices, Slind says they are offering competitive finance options to help bolster sales. He says the tactic has paid off – February 2010 auto sales were up 25 per cent compared with a year earlier.
"Consumers are saying, 'Gee, given the option of this finance payment or this lease payment, gee it seems maybe like buying this car might be a better financial decision for me."
However, buyer incentives among Canadian automakers are likely to be short-lived. Faria says automakers simply can't afford to keep offering cheap financing and rebates.
"These moves are moves that certainly hurt the earnings of automakers," Faria says. "If you're offering zero per cent financing, it certainly doesn't do anything for the financing arm of your business."
According to Faria, there has been a rise in good leasing deals  in the United States and this trend could come northward.
"Little by little, we're seeing maybe some low-cost leasing coming back again," Faria says. "It looks like it will be making a comeback."