Derek Benitz has the January blues.
It's the slowest month of the year for retailers, particularly restaurants which are usually slow after the holidays. Add to that the fact that Canada's recession is reportedly over and he still had to lay off one of his cooks this week.
It hasn't been an easy two years for Benitz, who opened his second restaurant B Side Wine and Small Plate in August 2008 on Somerset Street in downtown Ottawa next to his original Benitz Bistro.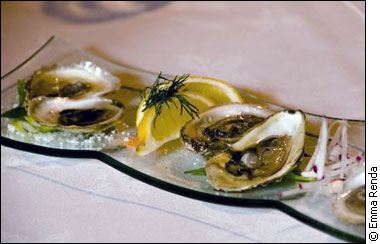 An appealing start.
But it could have been much worse.
Benitz says his December sales dropped $30,000 between his two locations, a pittance considering two restaurants within blocks, Il Bocado and Hot Peppers, which closed their doors on Dec. 31, 2009.
The Financial Post reported that sales at privately-held eating establishments grew a meager 0.34 per cent in 2009, following three years of growth between 6 and 7.5 per cent, according to a market research study by Sageworks Inc.
Restaurants defy recession
It was successful restaurant openings rather than struggle and closures that became the stuff of news throughout Ottawa during the recession. The ByWard Market welcomed a handful of high-end establishments, including Murray Street, Play Food and Wine, Navarra and Grand Pizzeria.
Ron Eade, the Ottawa Citizen food critic and author of the Omnivore's Ottawa blog, says he thinks restaurateurs had to get a little more clever in order to bring customers through the door.
"Do your homework, fill a niche and you will prevail," Eade says of the success stories he's been reading.
Benitz is expecting things will be back to normal by September, leading up to a busy holiday season. But until then, Benitz Bistro and B Side are sticking with their recession-proofed strategies.
"I watched the pricing, watched the menu content, tried to serve as much of it myself, tried to be here at night as much as I can," says Benitz.
"I watched the pricing, watched the menu content, tried to serve as much of it myself, tried to be here at night as much as I can." — Derek Benitz, Benitz Bistro and B-Side
He introduced tableau d'hote as a menu feature, allowing patrons to order a series of appetizers, mains and coffee or tea for a set price, a strategy he says was a "life-saver". Benitz Bistro is also one of many Ottawa restaurants to go local, although he keeps his reach as broad as Canada, importing mussels from PEI and using Ottawa's Art-is-in Bakery for their sandwich bread.
Enforcing zero waste
Benitz also swears by a zero-waste policy in the kitchen.
"Cans of tomato sauce are rinsed out [with water that goes in], bags that dried mushrooms come in are rinsed out, lots of things end up in soups or purees, dips or salsas, compotes," says Benitz. "We make sure we waste absolutely nothing."
This goes as far as cuts of meat. One lunch item at B Side is a short-rib panini, made with braised beef.
"Braised beef is a stewed item, a very low-end cut off a cow, but also an item that once you put a little love into it really shines on the plate," says Benitz.
Outside of the Byward Market, two restaurants are making a particular splash. Atelier on Rochester Street is an exclusive small-plate restaurant. At $85 for a tasting menu, Eade says it's not a cheap date but because it's done right, Ottawans are still flocking there in numbers, occasionally getting turned down at the door on weekends because the 20-seats inside are taken.
Marc Lepine, the head chef and owner of Atelier, has taken some progressive approaches to saving money. He opted to lease a small building just outside of Little Italy instead of venturing to the high-priced Byward Market. The menu is locally-based, and he uses energy saving methods in the kitchen, including a Thermomixer, an appliance he says is practically 12-in-one.
"Everyone markets as locally-based and seasonal now, but we should be doing that anyway," Lepine says. "You have to take it a step further, like sustainable cooking methods and less energy."
Savings for farmers help the bottom line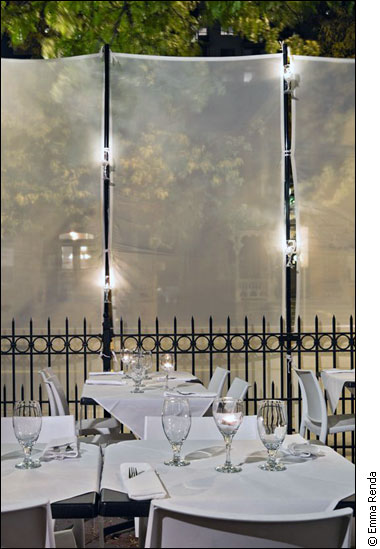 A cool meal on a warm evening
Patrick Whelan, the head chef and owner of Murray Street, agrees. Along with an almost-exclusively Ontario and Quebec menu (save a few BC imports and some international wines), Whelan focuses on using an entire carcass in order to save money on his end and the farmer's side.
Murray Street is renowned for its in-house charcuterie from duck liver mousse or head cheese, to Niagara prosciutto and cheese from Prince Edward County.
"It has to get here on the farmer's truck that raised it," says Whelan.
Whelan also notes the public is getting wiser, trying niche restaurants instead of those that are "everything to everybody."
"I have this running joke. If you're going to open a restaurant in the recession, make sure you have a national television program to back it up."
Zen Kitchen opened on Somerset in July 2009 with an entirely vegan menu and is already a critical success, partly due to its television series, The Restaurant Adventures of Caroline and Dave on The W Network. The series began airing on Jan. 6, which owner and sommelier Dave Loan credits for a busier January than most restaurants.
"I have this running joke," says Loan. "If you're going to open a restaurant in the recession, make sure you have a national television program to back it up."
Loan is generalizing, of course, but Ottawa's restaurateurs are each taking a unique approach to get the recession on their side.