On a quiet residential street in Aylmer, Que. – fifteen minutes from Ottawa's Island Park Bridge – the Beer King reigns as the national capital region's destination for cheap brew.
Marché Gravelle – also known as "Roi d'la Biere," translated to Beer King – is known by consumers for its rock-bottom beer prices and by brewers for its high volume of sales.
In fact, the king, storeowner Denis Gravelle, was crowned by a Molson sales rep because of the large amount of beer he sold. "That story started with a salesman. He started to call him the King of Beer about 10 years ago," said his wife Diane Gravelle.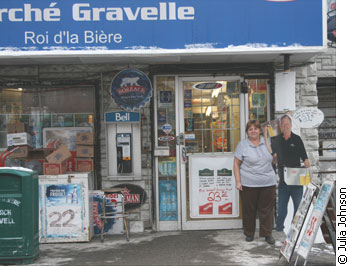 Diane Gravelle poses with the cardboard cut-out of her husband, the Beer King, in front of their Aylmer dépanneur.
The two embraced the name and "it just boomed after that," Diane said. Now a cardboard cut out of the king himself stands outside the store to advertise weekly specials.
Diane said the depanneur – or Québécois convenience store – has been in her husband's family for 50 years. She and her husband took over the store, which included a large butcher shop in the back, from Denis' parents about 27 years ago.
They decided to extend the store hours to attract business – and it worked. Within four years, they ditched the butcher shop at the back of the store to make more room to store and sell beer.
"We started to open seven days a week from eight in the morning to 11 at night. […] In those days it was a different lifestyle.
The big stores weren't opened on Sundays. It was different," Gravelle said.
The store continues to grow. Just three years ago they added a second walk-in beer fridge to the building.
Business model
The Gravelle's business model involves selling cases of beer at the lowest legal price, or close to it, in very high volumes. "I make less profit. But in the long run, the more I sell the better it is for me," Diane said.
She estimated that the store sells more than 100,000 cases of Labatt and 100,000 cases Molson beers each year.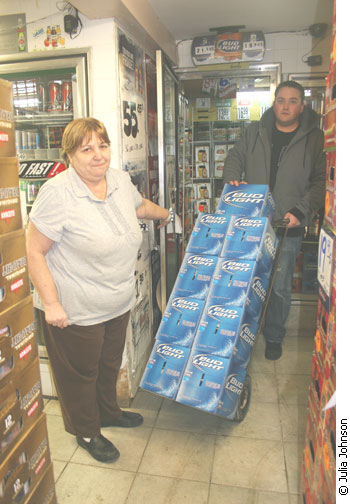 Stocking up for the month.
Martin Giroux, a Sleeman seller, said the amount of Sleeman sales at Marché Gravelle is an "average three or four times that of a regular depanneur."
Giroux said he thinks the store would be in the top-10 depanneurs in Québec for beer sales.
At Marché Gravelle, all of the cases of light beer sell for $21.38, the minimum legal retail price in Quebec, for a total of $26.61 (with the tax and deposit). In Ontario, a regularly priced 24-pack of Coors Light would come to $33.95. For a price comparison of popular brands click PRICE CHECK.
Jason Baker, a resident of the west-Ottawa suburb Almonte, said he has been making the trip to Aylmer once a month for the past two years to take advantage of the Beer King's prices.
Needed competition
During a recent visit he stocked up on nine cases of Bud Light, a total tab of $214, including deposit. In Ontario, the same haul would have cost more than $300.
Baker said he has spent as much as $600 in one visit. He said he thinks it's ridiculous that The Beer Store in Ontario "can get away with" charging so much.
Diane said she guesses that half of her customers are from Ontario. She said many students from Carleton University and the University of Ottawa come during the fall and reading week to stock up.
The store keeps Diane and Denis very busy from Easter weekend, through the summer, fall hunting season and then the winter holidays, Diane said.
And as the beer king and queen are getting older, their two grandchildren now work in the store – keeping the royal tradition alive.