For decades, people have tried to have alcohol delivered to their doorsteps.
Many remember the old times when taxi drivers took requests to pick up the booze for you. Entrepreneurs seized the opportunity to meet that need and and started an alcohol delivery business in Ottawa around thirty years ago.
Citybooze Delivery is now one of the major players in town. It delivers any product available from LCBO and the Beer Store to residences across the city.
Founder and president Francis Butler, 37, is a veteran in the field. He began by working for the original Citybooze Delivery company 13 years ago, then opened a company of his own eight months later at the age of 24. His business, Lastcall Delivery, expanded over the next six years and he bought out Citybooze in 2004. Over the last 12 years, his business has purchased six competitors and now operates a fleet of 20 to 40 vehicles.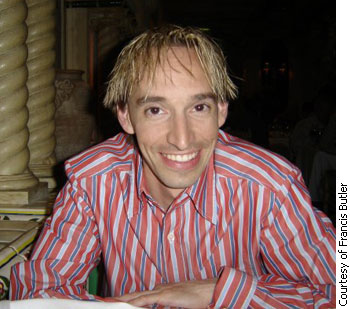 Francis Bulter has been in the delivery business for more than a decade.
"As our business grew, we started to show people that we are not just a liquor delivery service," says Butler. "We are a company that will cater to the needs of people that don't have the means of transportation."
Family buyers
Butler says the majority of his customers are families, while senior citizens and people with disabilities make up 30 to 40 percent of his business.
While underage drinkers are always trying to find a way around checking IDs, Butler says his employees work hard to make that difficult. All the drivers have received certificates from Smart Serve Ontario, a provincial service training program for individuals who serve alcohol. The company also keeps a file of blocked numbers and addresses of underage callers. Moreover, the phone operators have their own tricks.
"If someone is ordering coolers, or malt beer like Old English, or they are asking for those big bottles that you can find on the Quebec side in the convenient store, like Budweisers, those are products that are usually drunk by kids," says Butler.
Butler says it's "very easy to trick the people calling".
"At a certain point of the conversation, we are just going to ask them their date of birth," says Butler. "Usually ask them when we have taken the full order." That's when most of the teenagers would either hang up, or say something that doesn't make sense. The operators would normally turn down the business.
Working with The Beer Store
Last year, the company started a six-month pilot project with the Beer Store, which allowed it to display advertising cards at cashiers in every beer store in Ottawa. Butler says it is the only company in 30 years that has had such an agreement with the Beer Store, thanks to a fall in beer sales.
"The business of beer has gone down in the last couple of years. People are spending less money on beer, and wine is becoming a very popular social drink now, " says Butler. "Because of that, they are looking at different ways for them to actually make money. So we were able to make a deal to send advertising money into the Beer Store."
Judith Madill, business professor at University of Ottawa, says by increasing the convenience factor, Citybooze may increase overall alcohol consumption.
"It makes it easier for them to obtain the product, so the distribution of the product is essentially improved."
Citybooze's arrangement with the Beer Store ended on December 31, 2010, but Butler hope to renew it. No similar agreement has been made with the LCBO.
Butler says Citybooze's next goal is to have "a provincial presence", which means setting up offices in all major cities in Ontario, and more access to advertising province-wide.
"If we could sign a very large agreement with companies like LCBO or the Beer Store, where they would give us access to advertising in all of Ontario, that would be huge for us."