Luke Rochefort saw his life come to a sudden halt.
The 28-year-old owner of Ottawa's St. Louis Bar and Grill was diagnosed with testicular cancer in 2010, but the bad news didn't end there.
"He found out shortly he had [cancer] in his lungs, in his abdomen, and then it spread to his brain and was basically given zero chance," said a close friend, Mike Bouris.
But as some like to say, doctors lie.  Rochefort's next-to-nothing chance of survival was easily proved wrong after treatments by a relatively new piece of medical technology called CyberKnife.
"He has had quite a miraculous recovery," said a colleague Jonathan Hatchell.  "He is now back – working – and he looks like prior to him getting sick with cancer."
ASSEMBLING A TEAM
Wanting to give back to what saved his life, Rochefort assembled a team of restaurant owners, including Bouris, approached the Ottawa Regional Cancer Foundation (ORCF) in October.
With the help of the foundation's community and corporate development manager Jennifer Graves, the team drafted the country's first-of-its-kind fundraiser called Dine-a-Rama.  The team would network in the restaurant community, canvassing with an idea to try and fundraise for the ORCF by donating 25 per cent of sales on a given day.
At each stop, Rochefort would tell his tale of survival and the participants for the fundraiser grew.  Almost every restaurant approached agreed to the fundraiser, quite "unbelievable" as Bouris described it.  Before they knew it, more than 100 restaurants were listed as participants.
"Really, it was something that, you know, we really couldn't not do," said Hatchell, who is the vice-president of Royal Oak Pubs.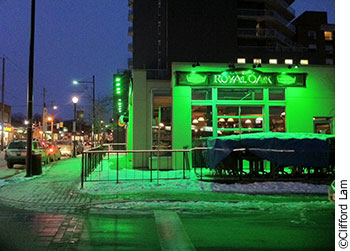 Although the city froze on Jan. 23 with wind-chilling temperatures that dropped to -41 degrees, it didn't stop the giving spirit.
Staff at the Royal Oak Pubs were faced with what Hatchell called "some internal competition…to say that their pub has raised the most."  With 12 Ottawa locations, its Wellington pub (pictured) brought in $640 out of the $4,600 raised by Royal Oak.
Bouris' restaurant, Chances R, held a silent auction for donated suites at the Scotiabank Place, managed to pull in an impressive $5,000.
Still waiting on about 20 restaurants to hand over proceeds, the ORCF has received over $80,000 from Dine-a-Rama events coordinator Erin McGuire say that's not far from the event's $100,000 goal.
KNIFING THE ILLNESS
Cyberknife technology was only introduced to Canada three years ago.
It is a robotic radio-surgery system, allowing doctors to perform radiation therapy with precision and effectiveness of surgery, but with few of the side effects.
Now, there are still only three Canadian hospitals that have the $3.9-million technology to treat their cancer patients: the Juravinski Cancer Centre in Hamilton, the Ottawa Hospital and Notre Dame Hospital in Montreal.  The Ottawa Hospital treated its first patient using CyberKnife technology in September 2010.
CyberKnife supporters, such as the Ottawa Regional Cancer Foundation, claim that the  treatment offers patients "no invasive surgery…no difficult recovery time, no hospital stay and no chances of infection."  But there are still too many unknowns about Cyberknife's unique radiation therapy, so the provincial government just won't buy in, and fund the idea.
At this stage, according to Ottawa Hospital Foundation officials, "CyberKnife at the Ottawa Hospital is fully funded by the community through the foundation.".
The clinical trials and research being conducted at the Ottawa hospital currently receive no provincial funding, but the hospital says it pays for the technology's operations.
"This is the first year that I've known of this CyberKnife Program and I mean, we've been involved with the regional cancer for years," said Hatchell.
BECOMING ONE WITH THE COMMUNITY
"I mean, it's an expense, but the incentive is to be part of our community," said Ida Firestone, marketing director for Firestone Restaurant Groups.  It was one of the lead sponsors and held one of the many press conferences dedicated to the Dine-a-Rama event.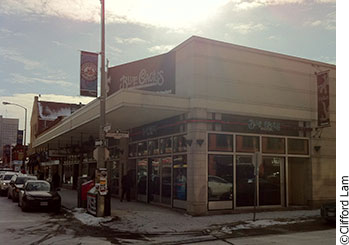 "It is important, perhaps essential, for any individual or organization to be involved in the community," said François Brouard, associate professor at the Sprott School of Business. "The philanthropic work and activities could be to enhance reputation, present a business as a socially responsible citizen, or to have really altruism behaviour."
Even though some might see it that way, Hatchell says, "it's just part of the circle."