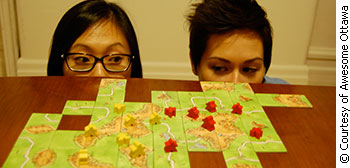 ANASTASIA PHILOPOULOS
Ashley Cabecinha and Ka Lei Ku of The Meeple's Republic. When Ashley Cabecinha and Ka Lei Ku decided to start their own company, they were prepared for long days, money woes and the general risk that comes with business. What they weren't prepared for was the overwhelming support from Ottawa's entrepreneurial community.
The young women have launched The Meeple's Republic, a social event company that uses board games as a way to get people interacting. Last month, the Ottawa based company hosted its first event in Ottawa.
They call it speed gaming.
In groups of four to six, guests play various board games for 30 minutes at a time and in between games, food and drinks are served. The event was $30 a person and was hosted at The Hub Ottawa, a creative industrial space where entrepreneurs can work and network.
BOARD GAMES
"We're really big on board games because we really want people to get out and meet people and have fun and do a lot of face to face."
According to Cabecinha, The Meeple's unique take on social interaction became a reality due in large part to the love and support from Ottawa's entrepreneurial community.
The local chapter of the Awesome Foundation awarded the two young women $1000 in January. Each month, the foundation's local chapters award $1000 to a worthy project, event or cause in an effort to spread general awesomeness in the world. Trustees at the local level each donate $100 and vote on proposals from the community. There are no strings attached and the Awesome Foundation claims no ownership over any project they choose to support.
Trustee Jesse Kaunisviita says Awesome Ottawa chose The Meeple's Republic because their idea was well thought out and unique. And while it's not part of the charity's mandate to support local business, Kaunisviita says many of its members are entrepreneurs themselves. "I think we're all very sensitive to the fact that empowering a local entrepreneur is going to do more for Ottawa in the long run," he says.
BUSINESS KICK-START 
The Meeple's Republic used the money from Awesome Ottawa to kick-start their business and run their first event. Cabecinha and Ku were thrilled to get the local charity's financial backing but it was their particular brand of encouragement that was most appreciated. "The fact that they're willing to give us their money has sort of given us the confidence to really go with this," Cabecinha says. "It was the catalyst that made this February 13 event a reality."
Since then, the momentum has not slowed. Local businesses and entrepreneurs have offered the girls advice, encouragement and even a helping hand.
The Piggy's Market and Macarons & Madeleines made the delicious treats for the evening, while local microbrewery Beyond the Pale provided the beers. The Comic Book Shoppe donated prizes and World Famous Music DJ'ed the event. "The vendors that we're working with, they're sort of doing us a big favor," says Cabecinha. "It's hard to put your product forward and let someone else showcase it for you," says Cabecinha.
GAME SUMMIT
One of The Meeple's biggest supporters is UniForge, an Ottawa based branding and advertising company. Last month, UniForge held their annual Game Summit, where casual to hardcore gamers came together to see what was new in the world of games; board and otherwise. The Meeple's Republic was offered a display table and even time to host a mini speed gaming event.
"I think collaboration has always been important," says Marquis Côté, owner of UniForge. "As an entrepreneur you always have the feeling like you want to share your story and you want to help other people that are just starting out."
According to Industry Canada, only half of Canadian small businesses survive their first five years.  Côté says surrounding yourself with a community of people who can guide you and generally offer mentorship is vital to strengthening a homegrown business.
Cabecinha could not agree more and adds that collaboration is essential to her business, as well as the greater entrepreneurial community. The young entrepreneur says the Meeple's Republic will host local product, food and beer at its events, whenever possible.
"A huge part of our business model is showcasing the things in Ottawa that we love. They are what makes Ottawa awesome and we want to make sure that Ottawa continues to be awesome and grows towards greater awesome-ness."