Low vacancy rates in Ottawa's downtown core is driving companies to look for office space in the city's suburbs.
"The downtown vacancy rate is probably around 7%," says Ernie Potechin, a commercial real estate agent with NAI Commercial.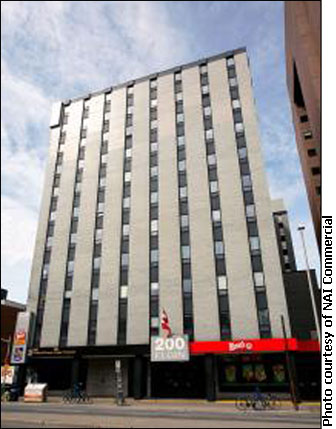 Prime office space available downtown.
According to a report on office real estate by Colliers International, 45 per cent of office space in the capital region is occupied by the federal Government.
"Ottawa is protected like it's in a little bubble because of the government," says Kelvin Holmes, managing director of real estate Colliers International,
The public service is not susceptible to ups and downs in the economy like the private sector, and because the federal government occupies so much of the office space in Ottawa, vacancy rates have remained low.
Potechin says this could make it hard to attract companies to Ottawa.
"It's hard to attract companies that want to be located downtown because they want the prestige of being downtown. Some companies aren't interested in offices that are out of the core of the city"
Struggles in Kanata
Although most of Ottawa fared well during the recession, the downturn did affect some areas of the city.
The vacancy rate in Kanata rose to 20 per cent during the recession.  The west-end Ottawa community already had higher vacancy rates because of the high-tech collapse which worsened in the past year.
That has improved slightly in recent months as the current rate is 16.4%Potechin says that companies in Ottawa are looking to Kanata for office space because other parts of the city don't have offices, "There's not much of office space in Orleans and Hunt Club, Kanata has the most."
However, experts say the vacancy rate in Kanata could drop even further in 2010 due to the fact that there is virtually nowhere else to find office space in Ottawa.
Joel Edelson, Chairman of the Ottawa Real Estate Board's commercial services division,  says  finding space is tough, "The biggest problem is that there is not a lot out there." .
Property inside the Greenbelt, 203.5 square kilometres of green space within the boundaries of Ottawa which is owned by the National Capital Commission (NCC), is hard to find because the majority of the land is owned and developed by the City of Ottawa, the federal government or the NCC.
This has made it difficult for companies to find inexpensive office space in the core of the city."Real estate is supply and demand. If there is a shortage of product for sale, the prices don't go down. If there isn't a lot of supply the prices will remain high," says Potechin. "Other than in Kanata, there's not a lot for sale in the city of Ottawa, this makes it difficult for companies that want to buy and develop their own product."
Moving away from the city's core.
Holmes says the combination of low vacancy and high prices may lead companies to start looking for property outside the Greenbelt.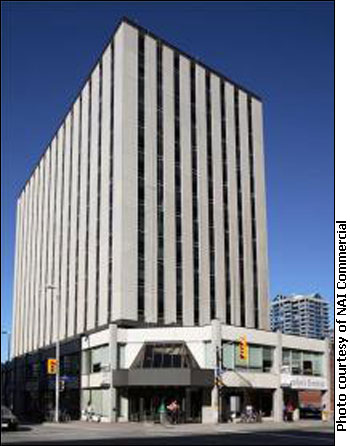 Space linked to shopping can fetch a premium in rents.
"Public works has recently leased property in Kanata," says Holmes. "This is the first time they have gone outside of the Greenbelt and I expect more companies will follow."
According to Potechin, newer companies will move to Kanata, "Very often it will be newer companies that want to establish themselves with a nice building who will move to Kanata. Newer companies want to impress their clients who come to them"
"Start up companies will go to Kanata because it's cheaper, then others will follow. They all feed off eachother," says Potechin.
The high vacancy rate in Kanata has  also lowered rents to between $10 and $11 net per square foot.  That compares to some buildings downtown that can cost as much as $20-$30 a square foot.
"Many companies are moving to Kanata because of the lower rates. It's much less expensive to be there than in the core of the city," says Potechin.
Because of these factors, Holmes predicts that Kanata's vacancy rate will drop to single digits and that prices will rise by the end of 2010.
"Increased activity means vacancy rates are expected to drop to single digits while rental rates increase to the $16 to $17 range," says Holmes. "There will be a gradual increase in 2010."