While the global financial crises rocked housing markets across Canada and around the world, the Ottawa housing industry did well through the recession.
That may also help the city avoid a possible housing bubble that is worrying those in other regions of Canada. Sandra Pérez Torres, Canada Mortgage and Housing Corporation's senior market analyst for Ottawa, says recession is a harsh term to describe Ottawa's economy in late 2008 and early 2009. Pérez Torres says the main economic driver for housing prices is full time employment, and while employment in general went down in Ottawa, the average weekly earnings, which she uses as a substitute for salaries, increased by 5.9 per cent in 2009.
She says while there was a slight reduction in housing sales at the start of 2009, by year's end sales were 7.3 per cent  higher than 2008 levels. December alone saw an increase of 47.5 per cent from the same period the previous year and November sales were 42.5 per cent higher than last year.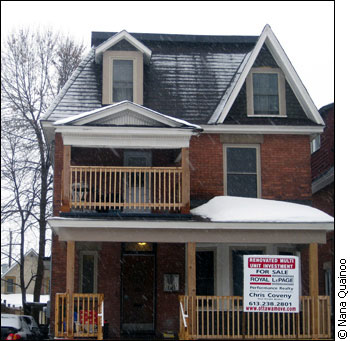 Old Ottawa South is a popular address for buyers.
Bob Blake a sales representative for Royal Lepage Team Realty says the recession did not affect his business. He says Ottawa is a very "stable market and the civil service keeps things buoyant." Geoff Walker a sales representative with Remax Metro City Realty Ltd. agrees. He says the recession had a positive effect on his business because of the lower interest rates.
Walker says now is probably the best time for buyers to purchase a home before an increase in interest rates. However, he admits Ottawa is presently a seller's market. "There is a very low inventory in Ottawa right now," he says.
He compares the current market to the one in 2002 where there were a lot more buyers than sellers. He says it is now common to see two to five offers on a house or bidding wars over properties.
Blake agrees that consumers should "get out and buy now," if they can find a property for sale, before interest rates rise. However, both Blake and Walker say they doubt interest rates will have a significant long-term effect on housing sales, noting that even when interest rates were at five and six percent, the housing market still did well.
While a rise in interest rates is almost a guarantee later this year, Blake and Walker say it is unclear if Finance Minister Jim Flaherty's proposals to increase the minimum down payment on mortgages by five percentage points and/or lower the length of amortization by 10 years will actually come to fruition.
"Flaherty's crystal ball is probably just as muddy as the rest of ours, it's hard to predict these things," says Blake.
Support for Flaherty
Walker however, says he would welcome the changes.
"I think Jim Flaherty saying he will increase the down payment or reduce the amortization rate is actually a good thing. It's a security issue. We don't want to be loose with our lending policy. By tightening them it may potentially limit the amount of people that could buy a property," says Walker. "It allows for a safer market and a market that wouldn't be as volatile because people won't be purchasing properties where their debt load is too great and they can't manage."
However, Pierre de Varennes, president of the Ottawa Real Estate Board, says Flaherty's changes won't be necessary. He says in the upcoming months, "we are going to see a very confident market, in the Ottawa tradition – a market that has a low single digit increase in price and volume, because of the confidence in the Ottawa market and across the country."
Earlier this February, Flaherty introduced less drastic changes including requiring all borrowers to meet the five-year fixed-rate mortgage standards, even if they choose a lower rate or shorter-term variable mortgage.
CMHC's crystal ball
Pérez Torres echoes de Varennes' sentiment. She says the CMHC is expecting 2010 will still be a strong year for housing in Ottawa. She predicts there will be an increase in the resale home market by six per cent and projects there will be about 15,400 housing units sold in Ottawa in 2010 overall, 3.2 per cent more than 2009. She says the increase in sales will be seen in the first two quarters of the year and stabilize in the last two quarters because of an increase in interest rates and the introduction of Ontario's Harmonized Sales Tax, which will effect new higher-end homes.
Since the HST applies only to new homes over $400,000, which comprises a very small portion of the Ottawa market with just 5,900 new builds projected in 2010, most real estate agents say they are not worried about the impact of the sales tax in Ottawa. Walker says he thinks the HST might even further stimulate the resale market, which will see marginal increases in commission and lawyer fees because of the tax.