The recession was no match for Ryan Anderson. He quit his job at an Ottawa-based marketing agency in the summer of 2008 — just before the global financial crisis hit Canada — to start his own one-man public relations firm.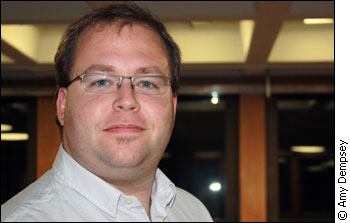 Ryan Anderson owns Fat Canary Communications, an Ottawa public relations firm that specializes in social media.
"There were people getting laid off all around me," he says of the period before he left his job. "It wasn't a good place to be."
There were two employees left in Anderson's communications department at Fuel Industries and the company was about to lay off one more. Anderson says he probably wouldn't have been let go because he had seniority, but he decided it was time to do his own thing.
The hardest part, Anderson says, was leaving behind the job security, but his hesitation didn't last long.
"If all I'm staying for is security but you have no real job security in this economy, then why not go out on my own?" he remembers rationalizing.
A year and a half later, Fat Canary Communications — Anderson's social media public relations firm — has made it out of the recession unscathed.
"I'm not going to discuss my personal finances too much," Anderson says, "But after a year of being on my own I bought a house."
"I'm in a better financial situation than I was when I was on salary."
In fact, he says he's even had to turn down potential clients in the past year because his firm has been so busy.
Smaller can be smarter
Anderson credits his success to Fat Canary's size. He now has one full-time staffer and a handful of contractors, but no office — he works from home or wherever he parks his laptop.
Anderson also says his business benefited from companies that were searching for social media strategies to bring in new clients during the recession.
However, Anderson says the drawback was that if his business failed, he would have been completely alone. The 29-year-old says he tried to start his own business right after graduating from university, but it didn't work out.
"You have to have a certain level of seniority before you can really make a go of it," he says.
It helped that he took some clients with him from his old job this time.
"You have to have a certain level of seniority before you can really make a go of it."
Anderson's not the only Ottawan to break out of a larger firm and survive the recession.
Danielle Côté, president of the Canadian Public Relations Society's Ottawa-Gatineau chapter, says many public relations and communications people have been going small in recent years.
"Anecdotally, there's definitely been a change," she says.
Côté says there's a large group of independent public relations consultants who've been doing well steadily over the last couple of years. But the bigger firms haven't had as much luck — especially in the past year.
"From what I hear. . .agencies are downsizing and some are closing," Côté says.
She says she thinks the key to success during a recession — when many organizations were cutting their communications budgets — is to diversify.
"If you're just depending on government and [the] government's not spending, good luck to you," she says.
"But if you diversify to tech(nology) and government and healthcare and maybe the retail sector… all of those industries may be affected but you're not going to get a big hit at once."
Finding untapped niche markets
Even so, others have found success in niche markets.
Ian Capstick runs MediaStyle, an Ottawa-based communications firm that caters exclusively to left-of-centre clients.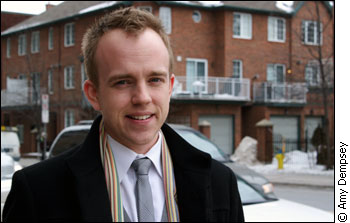 Ian Capstick is a former hill staffer who launched a public relations firm in the middle of the recession.
Capstick's firm only works with unions, non-governmental organizations, associations and, on occasion, social enterprises that give back to the community.
Capstick said the niche market has been a big success for him because there was no one catering exclusively to that kind if market before he came along.
Before he launched MediaStyle at the height of the recession in January 2009, Capstick worked on the Hill as a press officer, first for the Liberal Party and then the NDP.
MediaStyle had no clients for its first three weeks. Now at the end of his first year, Capstick says his company came out with a happy, healthy profit — despite the recession.
"I made out better than I did on Parliament Hill for all those years," he says.
MediaStyle is a one-man shop — Capstick still has no staff. He hires freelancers, as needed, to work on projects with him.
"I don't have a giant headquarters with a fountain in the lobby, but I also don't have to charge you for the overhead of that."
Like Fat Canary, MediaStyle doesn't have a traditional headquarters. Anderson uses The Code Factory — a shared office space on Queen Street in downtown Ottawa — and works from home.
"I don't have a giant headquarters with a fountain in the lobby," he says. "But subsequently, I also don't have to charge you for the overhead of that."
In the future, Capstick says, he may want his company to grow into a medium-sized firm with a small staff, but that's it.
"I don't really want to be a big guy," he says.
"I have a market. I like my market."