A smile says a thousand words.
But the 7, 400 Ottawans who lost their jobs in the last three months could have less to smile about as they near the end of their dental benefits.
With the clock ticking on the six months of coverage provided after a layoff, medical services not covered by the Ontario Health Insurance Plan (OHIP), like dentistry, will soon be added to the bills faced by the unemployment.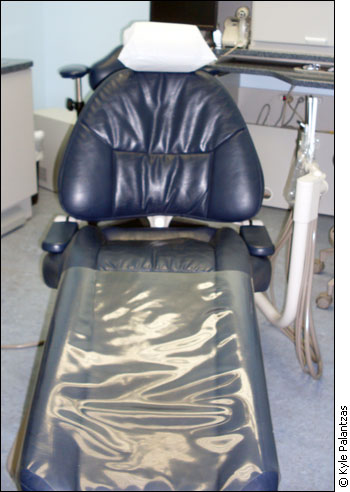 Dentists with time on their hands.
As the turbulent economy continues to gut jobs across the province, thousands of families are being left with temporary health benefits. When people are unemployed, the impact ripples through the economy, affecting the health care sector.
According to Statistics Canada, the global recession has pushed Ottawa's unemployment rate up to 6.1 per cent in December from 5.2 per cent.
"Recent studies indicate that a small percentage of the population does not see a dentist regularly," says Basia Vanderveen, Canadian Dental Association (CDA) manager of communications. "Some people quote the lack of insurance as the reason."
The Canadian Institute of Health Information highlights the estimated expenditures on dental services as only 7.1 per cent as a proportion of total health expenditures for 2007.
This is a small piece of the pie, considering the relationship between oral health and overall health.
"With the link between oral health and overall health being supported by scientific evidence, people understand the value of maintaining their own teeth for life," says Doctor Ira Kirshen, president of the Ontario Dental Association.
Trends indicate that people do not want to shell out for something that once seemed free – especially during a recession. A standard cleaning can cost $170 – an added expense to an already occupied budget.
Kirshen says that the dental industry, specifically in Ottawa, has seen changes in dental visits.
"There is an initial spike in office visits when patients take advantage of the existing benefits before they cease."
This trend is also apparent when the federal government cuts civil service numbers or before people retire; wanting to get dental work done while they are still covered.
Before the expiration date
Laid off employees try to get all their necessary dental work done on their former employers' tab before the six month window expires.
After the benefits run out, the cost of a trip to the dentist becomes harder to stomach.
A public survey conducted by the CDA shows that 50 per cent of Canadians visit their dentist once or more every six months, but that is changing.
"We are seeing more patients asking if they can delay their six month checkup or necessary dental work. Some are asking how they can cut back on services."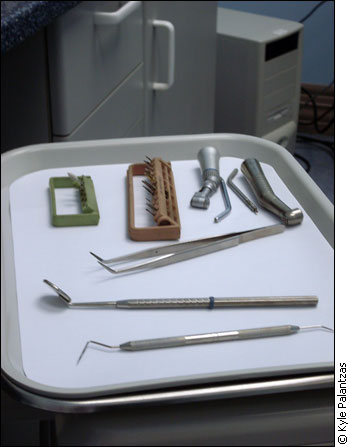 Ready and waiting.
While benefits dwindle and the volume of patients shrinks, dentists themselves are feeling the crunch.
"Many dentists will help long-term patients through a crisis and see family members at a reduced rate or discuss payment options," says Kirshen.
Another hit to the industry is the rise of consumer dentistry and price shopping. Patients who would have opted for necessary dental work before are carefully looking at price tags and trying to find a cheaper solution.
When a tooth requires a crown, for example, patients are tending to repair it with a less costly filling, says Kirshen.
With Ottawa's job market heavily relying on a technology sector that eliminated more than 10 per cent its jobs last year, an insured trip to the dentist is less common.
Just ask Daniel Courteau, who was one of 65,000 former employees who lost their jobs during two rounds of Nortel layoffs in 2002 and spring 2009. He was forced to turn to private insurance.
"I don't know what I would have done if I was unemployed for much longer," says Courteau, who has a wife and three children. "Just for dental and health insurance it was costing me $350 a month."
Laid off workers are being penalized twice – losing their benefits as the cost of dental services is rising.
According to Ontario Dental Association's annual fee guide, the province has increased its provincial dental fees by two per cent last year to keep up with inflation.
"Just like general health, oral health is important," says Vanderveen. "When a poor economy could make us stressed and prone to illness, it's important to take care of ourselves."