Katie Frappier and Régine Paquette opened their second Ottawa boutique early February after they spent almost every day in January renovating and preparing.
Last year, these Victoire Boutique co-owners subleased the Westboro location. They say timing with the economic downtown was pure chance
"We started this plan before the recession hit," said Frappier.
"So this is something we have been working towards for a long time."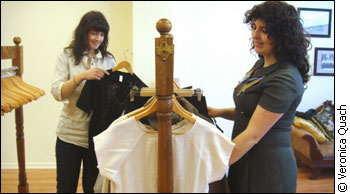 Preparing for the February opening.
The Victoire Boutiques primarily sell clothing, shoes and accessories made by Canadian designers, including those from Ottawa, as well as a select few American designers.
Though not all Ottawa boutiques and designers expanded during the recession, Frappier and Paquette's ability to continue selling at their first downtown location isn't one-of-a-kind. In fact, boutiques and designers in Ottawa have suffered very little last year despite that the fashion industry suffered globally.
"Ottawa's economy has been hit less than virtually any place in Canada," says Bob Kirke, executive director of the Canadian Apparel Federation.
Most local boutiques, including those on and around Dalhousie Street in Ottawa's downtown, and designers say their sales have been stable. Many even report small to moderate growth.
From three years of experience, Victoire owners agree that the Ottawa economy has been protected due to government jobs.
"Ottawa, in general, is still doing really well," says Paquette.
Jana Hanzel, a Ottawa designer, says her sales have remained stable. She has been working for private clients and theatre productions in the city for three years.
"It was not bad last year, actually surprising," she says.
But this hasn't been the case globally.
"The fashion industry is one of the first to take a hit during the recession because in many respects people are going to put aside clothing purchases," says Kirke.
In Canada, clothing and accessories sales dropped 4.2 percent from 2008 to 2009 between January to November, according to Statistic Canada's retail trade and sales figures.
In the United States, clothing and accessory stores suffered a 4.5 per cent drop from 2008 to 2009 between January to November, reported the U.S. Census Bureau's 2009 estimates of monthly retail and food services sales.
December 2009 statistics were unavailable in both countries.
High quality is key

Kirke says clear, high quality products can help designers and stores be successful anywhere during hard times.
Keshia Khan, marketing associate at the Canadian Fashion Association, agrees. Designers and boutiques shouldn't change or cheapen their products for short term sales, she says.
"As soon as it picks up, you'll still have your loyal following after," she says.
Ottawa-based designers, who did well in the international market during recession and continue to thrive, keep strong product focus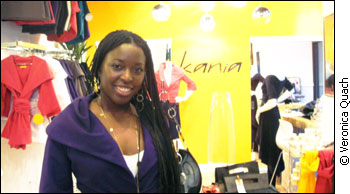 Kania's market is growing.
Stacey Bafi-Yeboa, designer of street style clothing Kania, sells all over North America and has internet clients from the U.K. and Asian market.
Her international success is due to the fact she hasn't compromised the functionality and high-quality of her clothes, a vision she has continued since she started eight years ago, she says. Many of her pieces are convertible and can be worn in a few different ways.
"I make things that are very practical for women," she says. "I make things they feel good in, they look good in and they feel comfortable in."
Andrea Kolpaska, designer of diverse jewelry lines under her brand Originals By Andrea, says her vision of unique and high-quality pieces got her through the economic downturn.
Kolpaska creates one-of-a-kind pieces herself and she never replicates a design. She sells in the North American market.
"It must be the quality of the material and also your uniqueness of design," she says.
"Whenever she is going to be taking it to a special occasion, she will not be facing another lady with the same jewelry."
Keeping up with customers
Responsive customer service is also important to keep customers coming back, Kirke says.
For Kolpaska, reviewing the customer markets is important to her success. She didn't distribute her more expensive pieces to those areas effected by the economic downtown, she says.
The global market has started to stabilize and that's a positive sign for fashion industries, says Kirke. Designers and boutiques should continue to use good business strategies, he says.
In Ottawa, boutiques and designers can continue to see stability, says Kirke.
"They should expect maybe a slight rebound in terms of sales, a slight increase," he says. "But they've done well and will continue to do fine."
As for the Victoire boutique owners, they are looking forward to improving themselves this year.
"We'll continue to strive to help [customers] find a better and better shopping experience," says Frappier.  "It's mostly learning to do what now even better."