Sustaining a business during the recession can be hard, but not everyone's feeling the effect, as the popularity of home-businesses grows in Ottawa.
Entrepreneurial Moms International, a networking group that brings together working mothers, kicked off the new year with its Ottawa launch Jan. 20 at Lago Bar and Grill View. The event drew out more than 50 local women, who all currently run a home-business or plan to start one.
"While most people may get discouraged from starting a business when the economy is down, this mentally can actually help lessen the competition for the few who do take the chance," says Janet McCausland, co-director of EM Ottawa.
The Internet and social networking have also transformed home-businesses by making it easy to keep in contact with customers, suppliers and competitors online, she says.
Two main challenges of operating a home-business are time management and balancing work and familylife, but owners can get around that by setting boundaries and following them, says McCausland.
"This is the best time to market yourself. Never let a recession stop you."
"This is the best time to market yourself. Never let a recession stop you," says Janet McCausland, co-founder of Enterpreneurial Moms Ottawa.
It appears many others share her theory, Statistics Canada's October 2009 Labour Force Survey notes the number of self-employed workers increased 3.5 per cent to 2.7 million from August 2008 to August 2009.
Necessity vs. opportunity
"Something like a recession can spark a huge increase in necessity-based home-business because people are driven to create work if they're lost their job. Given benefits like flexible hours and low start-up costs, this can be an attractive solution," says Tyler Chamberlin, an associate professor at the Telfer School of Management at the University of Ottawa.
On the other hand, opportunity-based home-businesses, which capitalize on "great new ideas," can be more limited in a low economy because consumers could be more cautious with disposable spending, he says.
"If you play out the two different sides and see what dominates, you would actually notice that necessity-based entrepreneurship has a positive net impact on business creation," says Chamberlin.
Statistics solely on home-businesses are unavailable, as many reports combine them with data for small and medium-sized businesses. Industry Canada defines small businesses as having fewer than 100 employees, while medium-sized businesses have 100 to 499 employees.
Along with his full-time job at the university, Chamberlin has been running an information technology consulting service from his home for the past six years. He says that since his business operates on government requests, he has seen no change in the number of contracts he receives.
Relaxing during recession
One entrepreneurial mother who attended the EM Ottawa launch is Amanda DeGrace, owner of DeGrace Energetics, a home-based lifestyle and wellness company.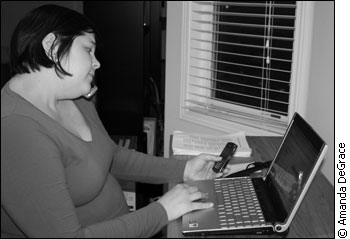 DeGrace says good multi-tasking skills are essential for home-business owners.
"I tend to come up with a lot of different business ideas so hopefully by joining this group, I'll be able to focus and hone in on what I want to do and be able to accomplish it," says DeGrace.
DeGrace Energetics opened five years ago for health and fitness consultations and despite the economy, is currently expanding to include children's yoga lessons, and children's first-aid for parents and caregivers. While the business is directed from DeGrace's home, all training and workshops are conducted at community centres or individual sessions at the client's home.
"I'm very lucky within my line of work. I haven't found any difficulty with the economy so far," she says. "People are still looking for ways to improve their lifestyle, and especially in the recession, looking for ways to relax."
The next step is to hire employees and contract out instructors, which will allow DeGrace Energetics to grow, she says.
Taking care of business
It's not just mothers who are taking to home-businesses. In July 2008, the Ottawa Public Library extended its services to broaden its reach to the business community by hosting business start-up workshops and providing one-on-one business consultations.
"I would say there's a huge interest in home-businesses right now," says Jill Hawken, business outreach librarian at the Main library. "There's a high home-business community particularly in Barrhaven (a western suburb of Ottawa), probably due to the large number of new immigrants whose qualifications may not be recognized in Canada."
One of Hawken's main projects is hosting the "Taking Care of Business" workshops, a two-part session that provides the rules, regulations and resources necessary when opening a new business.
"We've gotten terrific feedback at these workshops. At our 'how to start a business' program last July, we had 60 people come and the room's maximum capacity was 40. Most people who attend are very serious about setting something up," she says.
"It can be tough keeping a home-business running, but it depends on how well they are marketing and advertising themselves in that community."
For more information on how to set-up a home-business, can be found here.