Tags
Related Posts
Share This
Change a-brewing: craft beer discovers Ottawa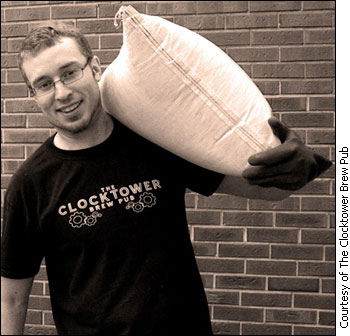 Master brewer Patrick Fiori holds a bag of malt, a main grain ingredient in beer.
The air in here is thick with the chalky smell of barley and wheat, and it is cold—very cold. Welcome to a Saturday afternoon tour of Heritage and Scotch Irish Brewing Ltd., located in a small brick building just off Carling Avenue in Ottawa.
Owner Ron Moir steps around a few puddles on the warehouse floor and, stopping at a table beside large, cone-shaped, stainless steel storage tanks, takes a brown, stubby bottle of Stuart's Natural Session Ale and pours a gracious amount into a small cup.
"This won't taste like your typical Alex Keith's pale," he says, laughing, and begins to pass samples around.
The beer teases the taste buds, then lingers in the back of the mouth. It's light—but nowhere near watery—and bitterer than those common swigs of Budweiser or Coors. There's also this seductive dash of citrus crossed with smooth pine flavouring.
Heritage and Scotch Irish Brewing is the only microbrewery in Ottawa—"micro" meaning it produces fewer than 17,600 hectolitres of beer per year, according to Roger Tottman's Traveller's Guide to Great Beer. This arguably is what makes the company, and the 41 others in Ontario like it, special.
'It's us against the big guys.'     – brewer Patrick Fiori
"We produce our beer in smaller batches," explains Moir. "And that's why it's called craft beer." He adds, "Everyone defines craft beer differently but basically it's beer with lots of flavour: It's handcrafted. And the decisions around the brewing – bitterness, flavour, aroma – are all made directly in the brewery."
Craft beer isn't about making a huge profit, Moir explains; it's about good, local ingredients and quality.
Quality not quantity
Ontario's craft beer industry has grown steadily over the last few decades (writes international beer expert Stephen Beaumont in The Great Canadian Beer Guide) and especially in recent years. Craft beer sales rose 46.5 per cent in 2008–2009 at the Liquor Control Board of Ontario (LCBO), the government agency responsible for the sale and distribution of Ontario wine and spirits. Likewise, according to Ontario Craft Brewer (OCB), an organization representing over 25 small brewing operations, sales came to $170 million in 2009, while market share has more than doubled to roughly five per cent since 2002. Plus, OCB calculates new breweries are being created at the rate of about three per year, versus a loss of one per year.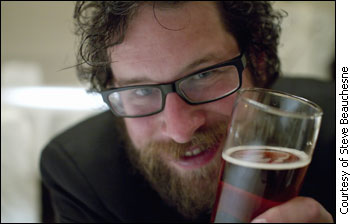 Steve Beauchesne of Beau's All Natural Brewery with a glass of Night Marzen beer, Beau's seasonal beer for fall.
Today 90 to 100 different brands of Ontario craft beer are offered by the LCBO, says Chris Layton, spokesperson for the agency. "It's been a craft beer phenomenon over the last five or so years," he says.
Others, like author Tottman, call it a renaissance, a growing rejection of the "corn syrupy" commercial beers that all taste the same and have dominated the market for too long.
Yet Ottawa's citizens have been a bit slow to jump on this localized, artistic grain-train. While Heritage first opened in 2000 and the city boasts its own brew pub, Clocktower, it wasn't until Beau's All Natural Brewery started up in nearby Vankleek Hill in 2006 that micro-brewing got onto the Ottawa map. Now, within this past year, the capital region has become home to two new craft brews: HogsBack and Kichesippi.
In fact Kichesippi has done so well it is now in the process of taking over Heritage as the new operating corporation. However, it will retain all original staff and continue to produce the Heritage and Scotch Irish labels.
'It's local art you can't taste anywhere else.' – Kichesippi co-owner Paul Meek
For Ottawa the "best thing that could have happened was Beau's," says Patrick Fiori, the brew master at Clocktower Brew Pub on Bank Street. "They've stayed true to the 'go local, go organic' goal, but they knew how to market and reach people. They've challenged people to try other local craft beer."
Fiori has been working for the past four years at the Bank Street Clocktower brewpub, where five of his brews are available. The same beer can also be found at the other Clocktower restaurants in Ottawa, as well as at the city's Cornerstone and Steak restaurants.
"If you'd have asked me when I first started here if we'd be where we are today—with all this growth and demand—I'd have laughed at you," he admits.
As for the threat of competition in the region over the craft beer market, Fiori says they don't look at it that way. "That'd be pointless. We're collaborative. It's us against the big guys who still dominate the market," he says. "Besides, we're all making different beer. No two taste the same."
Move over, wine and cheese
Across the city, on the edge of Chinatown, Zen Kitchen has had Beau's on tap since the day the restaurant opened in June 2009. They added Kichesippi to the menu as soon as it was available last spring and carry two other local craft beers as well.
"We're all about buying local, and that extends into our alcohol service," says Dave Loan, Zen Kitchen's owner and manager. "Personally, when I travel, I always ask what they have locally on tap. That's part of experiencing that place."
Last fall, the restaurant offered Oktoberfest-style meals with beer pairings. "People who tried it loved it, but it's still a bit tougher of a sell compared to wine," says Loan.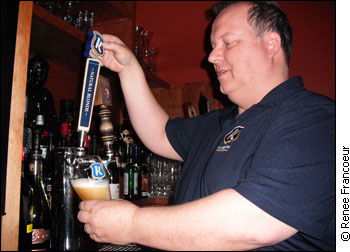 Zen Kitchen's Dave Loan pours a pint of Kichesippi, one of four local brews available at his restaurant.
Yet beer's disadvantage to wine over food is changing, claims Colin Jack, a BC beer expert, educator and managing partner of the consulting company Just Here For the Beer, now in its ninth year. The company holds an annual Beer and Wine Festival in Vancouver to celebrate both beverages with food.
"People are just blown away when you show them that craft beer actually goes better with cheese or chocolate because of its different degrees of bitterness. It can also be very palate cleansing, which a lot of people don't know," says Jack.
For the face and brains behind Kichesippi, owner Paul Meek, craft brewing is simple: It's local art you can't taste anywhere else.
Kichesippi's name pays homage to the Algonquin language and means "Great River." It refers to the Ottawa River and tells a story of local history, explains Meek.
"I want one day for people to say, 'Hey, I'm going to Ottawa, what should I do?' And the reply will be, 'Go to the canal; see the Parliament Buildings; have a beavertail and a Kichesippi beer.'"
Related Links
Cover image courtesy of Kichesippi Beer Co.
A man's drink?
Another surprising part about craft beer is who's drinking it. The big commercial beer companies and their macho, sexist, "Bud camp" stype of advertising have left out half the population. Craft beer reportedly is something more and more women are discovering and enjoying.
Beer consumption in Ontario has been up slightly, overall, due to more females now drinking beer, says LCBO spokesperson Chris Layton, citing the Print Measurement Bureau. He adds, "And it also found that women are drinking 'slightly' more microbrewery beer."
Could this be because of craft beer's fuller flavour? In his book Fermenting Revolution, Christopher O'Brien talks to Napa-based wine promoter Kim Caffrey about women and beverage appeal. Caffrey says, "Women actually have an edge as far as tasting and subtleties because women, anthropologically . . . have heightened sensitivity to taste and smell."
Beer writer and blogger Greg Clow of Toronto agrees. "My wife enjoys the coffee porter from Mill Street. Craft beer has such flavour, it seems to naturally attract women once they find out about it. In fact, at some of the events I've been at, it's half male and half female." A sign of the times.